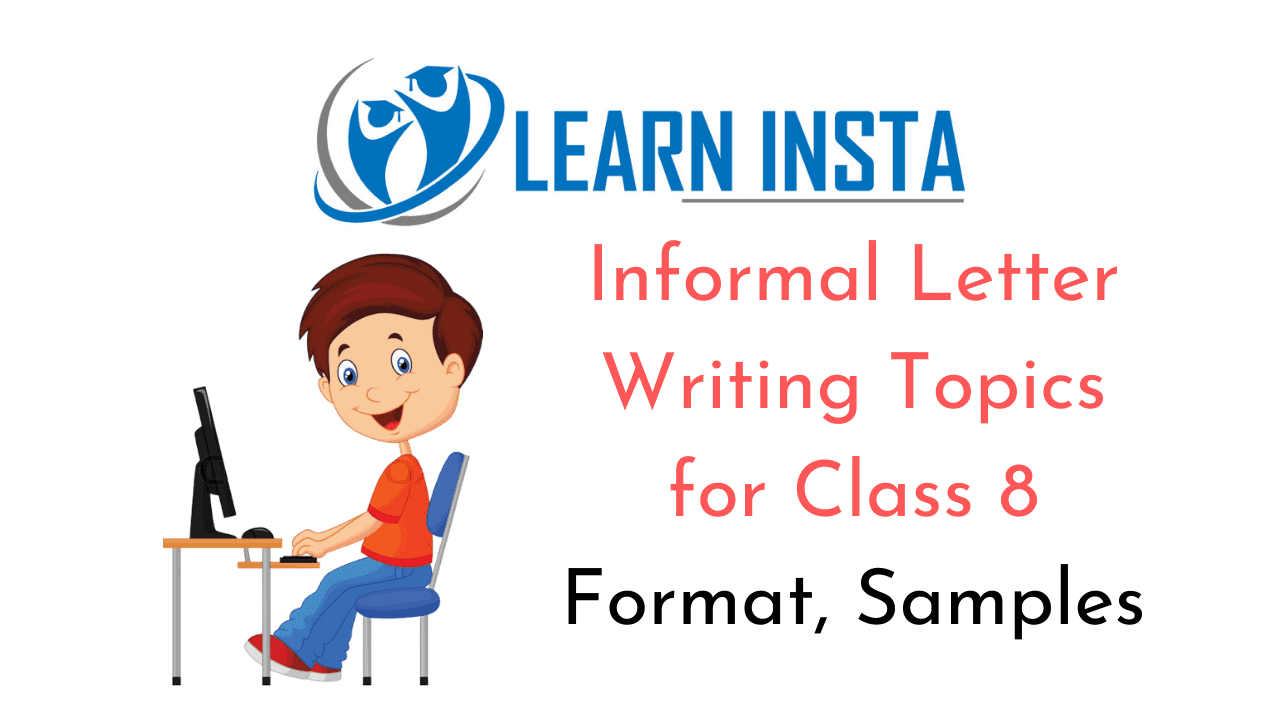 Letter writing is an essential skill. Despite the prevalence of emails and text messages, everyone has to write letters at some point. Letters of complaint, job applications, thank you letters, letters requesting changes or – making suggestions – the list goes on and on. Encouraging children to write letters from an early age will improve their communication, social and handwriting skills, and teach them what they need to know about writing and structuring letters.
Children are expected to learn how to write letters, notes and messages. They have to be aware of different styles of writing, the use of formal and informal letters, and to select style and vocabulary appropriate to the intended reader.
This grammar section explains English Grammar in a clear and simple way. There are example sentences to show how the language is used. NCERT Solutions for Class 8 English will help you to write better answers in your Class 10 exams. Because the Solutions are solved by subject matter experts.
Informal Letter Writing Topics for Class 8 CBSE Format, Samples Pdf
There are two types of letter
Informal letters
These are letters to friends and relations, or people you know well.
Casual and light-hearted tone.
Lengthier than a formal letter.
Preferably I side of the page.
Structure:
The sender's address should always appear on the top right-hand corner of the page.
Include telephone number and email if available
Greeting – There are several variations that can be used depending on how well you know the person: Dear Mary, Hi Mary, Greetings,
Complimentary close – short comment, for example, Love, Lots of love, With thanks, See you soon
Layout for an Informal letter
| | | |
| --- | --- | --- |
| 1. | Writer's Address | A-225, Mayur Vihar Phase 1, Delhi-94 |
| 2. | Date | March 25, 2010 |
| 3. | Salutation | Dear Ankit/Father/Mother/Sister/Brother/Aunt |
| 4. | Body | This part contains all the information one wants to share by writing the letter. |
| 5. | Subscription | Yours lovingly/affectionately |
| 6. | Name or Signature | Rajesh/Pavan/Atul |
Informal Letter Writing Topics Solved Examples for Class 8 CBSE
Informal Letters (Personal)
Question 1.
Write a letter to your younger brother about the Importance of the Value of Time.
Answer:
Model House: 42
Street No-11
Guwahati
25th May, 2015
Dear Rakesh,
I am writing this letter in order to give you some valuable suggestions regarding the value of time. If you turn the pages of history it will be clear to you that great men made the best use of time. Had they not been cautious about the value of time, they would not achieve greatness in life. So, it is high time you made the best use of your time. If you put off the things which you can do today, you will never be able to do them. Many lost things can be regained but time once lost, is lost forever, it can never be regained. Besides, the value of time cannot be measured.
It is known to you that youth is said to be the seed time of life. If you sow good seeds in youth, you will be able to reap a good harvest. Those who idle away their time suffer in the long run. I believe you too can achieve greatness if you value your time.
Yours lovingly,
Ritu
Question 2.
Letter to friend congratulating him on his success.
Answer:
18, Karol Bagh
New Delhi
September 29, 20XX
My dear friend,
Monika, Please accept my heartiest congratulations on your brilliant success at High School examination. My joy knows no bounds when I think that you have topped in the exams. You have secured 98 % marks. This is the result of your hard work and sincerity. My parents are also happy to know about your success. Kindly convey my respect to your parent and love to the youngest. With best Wishes
Yours friend
Ravi
Question 3.
Letter to father asking for money for the purchase of books and to meet other expenses.
Answer:
F-11 Badarpur,
Delhi
September 9, 20XX
My dear father,
You will be glad to know that I stood first in my class in the first terminal test. Now I want to buy some books and also I have to deposit my 2nd terminal exam fees. So, I request you to send me Rs. 1000. For the fees and for purchasing books. With best regards
Yours loving daughter
Mary
Question 4.
Write a letter to your neighbor about the nuisance causing by his dog.
Answer:
Quarter No. 8606
8 C Basant Kunj
New Delhi
8th February 20XX
Dear Mr. Umesh,
I want to bring to your kind notice that your bulldog is a permanent nuisance to us. It not only barks but also chases and bites. Yesterday it bit a postman who is in the hospital. In frightens children who dare not move freely. Your dog also enters our garden and spoils plants.
It barks so loudly that we cannot drive it out. You have every right to keep it to look after your house, but it is not proper to keep it loose. I hope you will realize our problems and will not give us any chance to a complaint. With best regards
Yours faithfully
Priyanka
Question 5.
Write a letter to your father about your preparation for ensuring the National Science Olympiad.
Answer:
House no. 67
Krishna Nagar
New Delhi
April 14, 20XX
Dear father,
I received your letter yesterday. I am glad to know that you are well. In this letter you asked me to let you know the preparation of my Olympiad examination. You will be very glad to know that my preparation is quite satisfactory. I attend the classes regularly. I do not waste time in vain. Our S.S.C. examination is near at hand. I have fully prepared myself for the same. I hope to do well in all the subject. Please pray for me. With best regards for you and your mother.
Yours loving son
Neeraj
Question 6.
Write a letter to your friend consoling him at the death of his father.
Answer:
House No. 216
Apsara Enclave
New Delhi
April 14, 20XX
My dear Suman,
I am extremely sorry to hear of the death of your father. I never thought of his passing away so soon. My parents are deeply shocked at this news. I find no words to console you. I can only pray to the Almighty that your father's soul may rest in peace. With best wishes and love.
Yours ever,
Namya
Question 7.
Write a letter to your pen friend describing the last prize-giving ceremony of your school.
Answer:
Flat no. 56
Mayur Vihar Phase-III
New Delhi
May 14, 20XX
Dear Tanya,
Thank you for your letter. You wanted to know about the last prize-giving ceremony at our school. Today I am giving you a short description of it. It was held in the last week of April in our school compound. We decorated our school building very tastefully. The chief guest arrived just a few minutes before the starting of the programmed. He was given a warm reception. The function began just at 10 a.m. with the recital on from the holy Quran.
After reading out the report the headmaster called each recipient by name and the president gave away the prizes. You will be very glad to know that I got two prizes. Finally, the president rose to deliver his speech. He gave the students valuable advice. The function ended just at 2 p.m. With best wishes and love.
Yours ever
Swati
Question 8.
Write a letter to your friend describing the importance of learning English.
Answer:
57, South West Block
Alwar
Rajasthan
April 14, 20XX
Dear Jolly,
Hope you are well. I have come to know that you are not interested in learning English. It's very disappointing. Today I tell you about the importance of learning English. You know that English is an international language. It is the most common medium of co-operation and communication among the nation of the world.
If we wish to communicate with the people of other countries, we must know English. It is also necessary for higher education and for a good job. I hope now you can realize the importance of learning English and read it well. With best wishes and love.
Yours ever
Jai Kumar
Question 9.
Write a letter to your friend describing your experience of taking food in a Chinese restaurant.
Answer:
506, Mayapuri
New Delhi
April 14, 20XX
Dear Monika,
Hope you are well. Today I shall tell you about my experience of taking food in a Chinese restaurant. My uncle invited me to have dinner at a famous Chinese restaurant in Delhi on the occasion of his marriage anniversary. The name of the restaurant was 'Mint'. It was decorated so colorfully and tastefully that it looked like a dreamland to me. When the food was served on the table, I was surprised to see so many dishes of food items.
There were chicken fry, burger, pizza, soup, and many other items which were unknown to me. We ate according to our choice. There were waiters to help us. I would never forget the experience. No more today. With best wishes and love.
Yours ever
Neelam
Question 10.
Your friend Abhinav lives in Bangalore. An International Book Fair is going on in your city. Write a letter inviting him to come and stay with you and visit the Bookfair. You are Pulkit Nikita living at A – 405, Vijay Laxmi Apartments, Lajpat Nagar, Delhi.
Answer:
A – 405
Vijay Laxmi Apartments
Lajpat Nagar
Delhi
15th March 20XX
Dear Abhinav,
An International Book Fair is being held in Pragati Maidan and it will last till the end of this month. You often asked me about some Book – Fair in Delhi. I invite you to come over to Delhi for a week. We will visit the fair together. Both of us will help each other in selecting useful books.
Many reputed publishers of India, America, England, Japan, Pakistan, and France have installed their stalls at Pragati maidan. Books are kept on display in the fair So it will easy for us to see a variety of books at a glance. Waiting for your positive reply soon.
Yours sincerely,
Pulkit.
Question 11.
Suppose you have received a letter from your father complaining about the idleness and extravagant habits of your younger brother. In about 100-125 words write a letter to your younger brother expressing your disapproval of his conduct and asking him to mend his ways.
Answer:
F-35, Alaknanda apart
Dhaula Kuan
New Delhi
Dear Sonu,
I have just received a letter from Father. He says that you have fallen into idle ways and extravagant habits. He also says that you choose some fellows who waste time, energy and money. You know Father is the only earning member in our family. You may imagine how deeply he is pained to learn all this about you. I never dreamed that you would fall into such habits. If you do not realize your responsibilities,
you will repent all your life and remember if you waste your time now, you can never get it back. As your elder brother, it is my duty to warn you and also to advise you to mend your ways. You have to give up your idle fellows and devote all your time to studies. I hope you will act upon my advice. Please write to me saying you have changed yourself. With best wishes
Your loving brother
Nirmal.
Question 12.
Write a letter to your friend describing a visit to someplace of historical interest during your holidays.
Answer:
6, Mall Road
Delhi
6th June 20XX
Dear Sushmita,
Thank you very much for your interesting letter. You asked me to write about how I spend my holidays. My brother and I went to Rajgir, I wanted very much to see the place. It is an important place of pilgrimage for Buddhists. It was the capital of King Bimbisar in ancient times. The Buddha preached at Rajgiri. Mahavira also preached here. The Rajgir hills are known for a large number of Buddhist and Jain monuments.
There are stupas and forts. There are hot springs Kundas at Rajgir. They add to the charm of the place. These springs are in the shape of falls and wells. The water of the hot sulphur spring is believed to cure some skin disease. We saw other interesting things. But I am afraid this letter is already long enough. I hope you are well and enjoying your holidays. With best wishes,
Your friend
Jolly.
Question 13.
Write a letter to a friend in England, telling him about some of the interesting of your country.
Answer:
12, F – Block
Roorkee
Dear Alini,
Thank you for your nice letter. I am glad to know that you want me to write to you about some of the interesting things of my country. India is really a very large country. This is a country of wonders. There are many interesting things here.
The most interesting things of the country is the Taj Mahal. It is one of the wonders of the world. In fact, you must have heard about it. The Taj Mahal is made of marble. It looks wonderful in the moonlit night. Its beauty charms everybody.
The Red Fort and Kutub Minar are other wonderful things of the country Vaishali. Rajgir, Nalanda, Bodh – Gaya, Puri, and Amritsar are some worth – seeing places in our country. You will like to see beautiful pictures on the walls at Ajanta and Ellora. Please do come to India and see all these things yourself. With love,
Your friend
Rekha
Question 14.
After experiencing the scorching heat. The other day it rained heavily. It was a welcome relief after a long spell of dry weather. Write, in about 100-125 words, a letter to your friend, describing your experience of a rainy day.
Answer:
Sadhana Sadan
Maujpur
6th December 20XX
Dear Raju,
Thank you for your letter of 5th June. We are glad to know that you are quite happy at home. Life in this city was uncomfortable. The sun was strong. The electricity supply was not good. It was not possible to move out of the hose in the day time. But the weather has changed. It rained heavily yesterday. The rain was a great relief to us after a long spell of dry weather.
I was at home in the morning. Clouds gathered in the sky. The strong wind began to blow. Soon it started raining. It rained continuously for two hours. There was knee-deep water on some of the roads. Children made lots of fun while it was raining. I also had a bath. What a great relief! Now the weather is cool and pleasant. Please do write about your life in the village. With love,
Your friend
Niraj.
Question 15.
Write a letter to the editor of a newspaper, appealing for help for the victims of a flood.
Answer:
Jagjivan Road
Sahasram, Bihar
19th July 20XX
The Editor,
The Times of India Patna Sub: Appear for help for flood victims Sir, Through the columns of your esteemed paper, I would like to make an earnest appeal to the public for help to the flood-stricken people of Aurangabad. No doubt, people are already familiar with the terrible tragedy that has overtaken the whole state. But the sad plight of the victims of the food in the district of Aurangabad is difficult to describe. Hundreds of villages have been wiped out.
Large numbers of cattle have been swept away and crops over large areas have been destroyed. Thousands of villagers have become homeless. The Government is doing all it can to relieve the suffering of the victims. But much larger funds are needed for giving them proper help. I, therefore, strongly appeal to the public to rise to the occasion and contribute literally to the national fund.
Your faithfully
Prabhat Choubey
Informal Letter Writing Topics Practice Examples for Class 8 CBSE
Informal Letters (Personal)
Write a letter to your friend giving her/him an idea of living in your city.
You are a student of class VIII. Due to some unforeseen circumstances, you missed your unit test. Write a letter to the principal of your school requesting her to him to allow you to reappear for the same giving reasons for your absence.
Write a letter to your younger brother. Sister encouraging him/her to work hard for upcoming exams.
Write a letter to the editor of 'The Times of India' complaining about the nuisance created by the use of loudspeakers. You are Piyush Sharma, a resident of Sector 15, Vasundhara Enclave, New Delhi.
Observe the following visual and write a letter to the editor of a local daily regarding the condition of bad roads in your locality.
You are the Area Manager of your company. Write a letter to the Director of ICICI Bank. One of your valuable clients, for the payment of pending arrears towards your company.
Write a letter to your friend describing a visit to places of historical interest.
You are Sunil Kumar, a resident of B – 168 Vijay Vihar. Write a letter to the Accounts Manager of State Bank of India for opening a new savings account.
You are a resident of Nihal Vihar, Faridabad. There is too much traffic chaos in your locality. The school children are the most vulnerable group as their safety is at stake. Write a letter to the area MLA to solve the above-mentioned problem.
Write a letter to the Traffic and Automobile department starting that their accusation about your car (Honda City Model No. 678) is false. Direct your letter to the assistant Magistrate of the concerned department.
You are troubled by the fact that there are many homeless people, who sleep in the park adjoining your locality. Write a letter to the concerned official of the Local District Office to solve your problem.
You are Meet. Write a letter to your friend asking him about his trip to Manali and also inviting him for your birthday party.
You are Rohit, residing at 56, Munirka Enclave, DDA Flats, New Delhi. Write a letter to your friend Rahim, telling him about your new school.
Taking help from the information given below, write a letter to your younger brother advising him to give up the bad company in which he seems to have fallen.