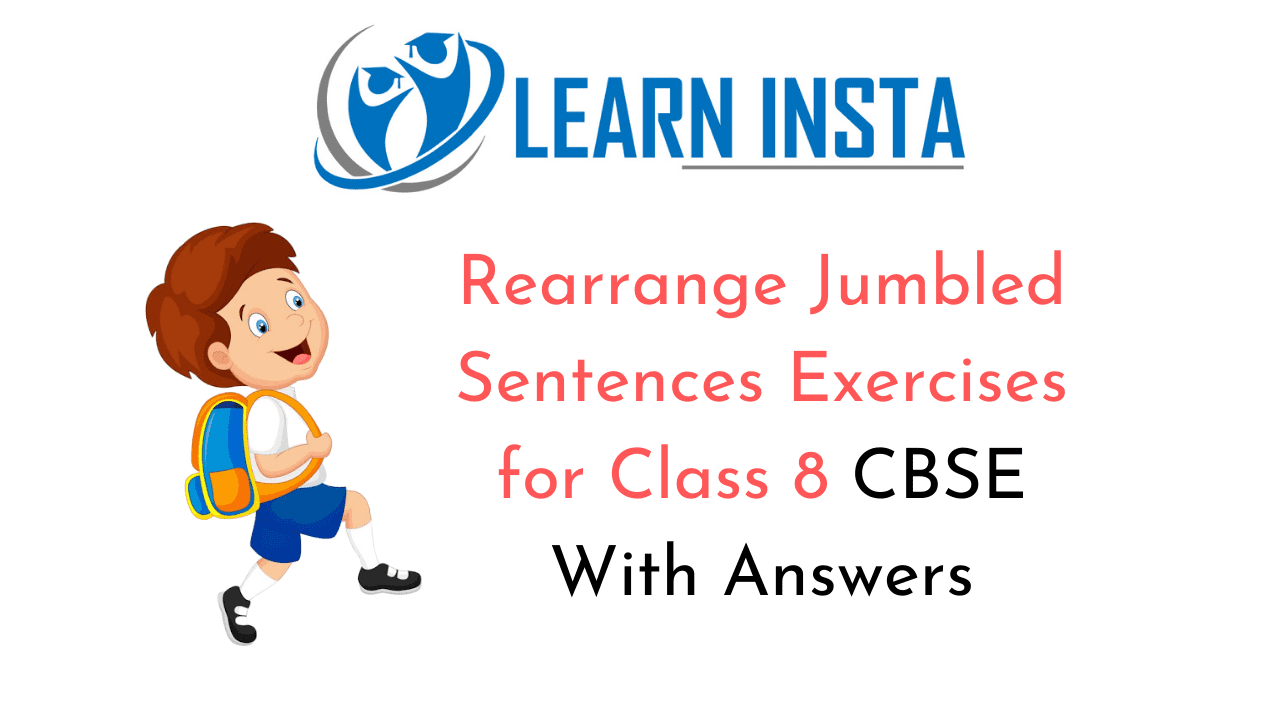 This grammar section explains English Grammar in a clear and simple way. There are example sentences to show how the language is used. NCERT Solutions for Class 8 English will help you to write better answers in your Class 10 exams. Because the Solutions are solved by subject matter experts.
Rearrange Jumbled Sentences Exercises For Class 8 Format, Examples, Topics, Exercises Pdf
Rearrange Jumbled Sentences Solved Exercises With Answers for Class 8 CBSE
Question 1.
1. man/was/uncivilised/quite/olden days,/in/the
______________________________________
2. covered/body/his/he/leaves/with/of/trees
______________________________________
3. became/he/and/cultured/civilised/as time/advanced/but
______________________________________
Question 2.
1. hostel life/advantages/as well/disadvantages/as/has/own/its
______________________________________
2. society/to live/to learn/it/trains/the/in/students/the
______________________________________
3. self sufficiency/teaches/them/it/of/art/the
______________________________________
Question 3.
(a) called / rose / the / queen /the / is / flowers / of
(b) widely / it / grown /is/ the / all / world / over
(c) 500 / there / about / are/ species / roses / of
(d) the / rose / persian/ best /is/ the
(e) brought / from/there / was/it/ India / to
Answer:
(a) The rose is called the queen of flowers.
(b) It is widely grown all over the world.
(c) There are about 500 species of roses.
(d) The Persian rose is the best.
(e) From there it was brought to India.
Question 4.
(a) person /a/ Healthy l'exercise / makes
(b) important / in /life/it/one's/is
(c) exercises / physical / person / make / physically / a/fit
(d) mental / makes / fresh / the / exercise / mind
(e) mind /it/sharp/ makes / the / too.
Answer:
(a) Exercise makes a person healthy.
(b) It is important in one's life.
(c) Physical exercises make a person physically fit.
(d) Mental exercise makes the mind fresh.
(e) It makes the mind sharp too.
Question 5.
(a) keep/ vitamins / fit / body / our.
(b) appetite/they/ and / improve/ body's / increase / ability / fight /to / diseases
(c) help/minerals / growth / the / body / of /in/ the
(d) vegetables / fresh fruits / sources / and / are / vitamins / of/ minerals / and
(e) roughage / body/helps / undigested / get rid of / to /the / food
Answer:
(a) Vitamins keep our body fit.
(b) They improve appetite and increase body's ability to fight diseases.
(c) Minerals help in the growth of the body.
(d) Fresh fruits and vegetables are sources of vitamins and minerals.
(e) Roughage helps the body to get rid to undigested food.
Question 6.
(a) useful / camel / is / animal/desert / the / most / the /in/the
(b) heavy/it/ through / carry I can/loads / sand / hot
(c) feet / adapted / walk / are/its / to / sand / on
(d) without/live/it/ water / food / many days / can/an/ for
(e) the ship of the desert / camel / called /is/ the
Answer:
(a) The camel is the most useful animal in the desert.
(b) It can carry heavy loads through hot sand.
(c) Its feet are adapted to walk on sand.
(d) It can live without food and water for many days.
(e) The camel is called the ship of the desert.
Question 7.
Arrange the words/ phrases/clauses given in brackets in the right order and make meaningful sentences.
(i) The prisoner ____________ (what had happened / the judge / told)
(ii) We ____________ (untidy / found / the room)
(iii) Queen Victoria ____________ (a genius / him / considered)
(iv) Who ____________? (you / how to swim / taught)
(v) Everyone ____________ (to make/wants / these days / quick money)
(vi) The government ____________ (to checķ / is trying / population growth)
(vii) No one ____________ (drops / to / expects / prices)
Answer:
(i) The prisoner told the judge what had happened.
(ii) We found the room untidy.
(iii) Queen Victoria considered him a genius.
(iv) Who taught you how to swim?
(v) Everyone wants to make quick money these days.
(vi) The government is trying to check population growth.
(vii) No one expects prices to drop.
Rearrange Jumbled Sentences Practice Exercises for Class 8 CBSE
Question 1.
Rearrangement the sentences.
(i) (a) India's / Kabaddi / one / is / games / indigenous / of
(b) popular / rural /it/in/is / areas
(c) does not / playground / this / require/ game / large / a
(d) is /it / game / cheap / very / a
(e) played /it/ courtyard / can/in/be/even /the / of / house / a
(ii) (a) nurse / symbol/is/a/ of/ humanity / service /a/ and
(b) frequently / she / seen / hospitals /is/in
(c) attentive/she/her / very / remains / duties / to
(d) noble / she / patients / all / iş / to
(e) she / popularly / is/ as / known / sister
(iii) (a) Vindhya hills / located / in / Madhya Pradesh/the Bandhavgarh National Park /the / is / of
(b) tigers / natural /it /home/is/ for / a / protected
(c) also / other / found / animals / here / are
(d) rare birds / spotted / also / some / can/be
(e) great / wildlife lovers / place / is/ for /it/a
Question 2.
Rearrangement the following words to form meaningful sentences.
(i) Chinese / served / Italian / are / here/meals / and
(ii) are / cinnamon / benefits / what / the / of?
(iii) freedom/fought /he/the/ India / of/ for
(iv) hit / he / the ball / so hard / lost /it/was / that
(v) repair / all types / works / undertaken / of/ are
(vi) are / the / description / of/ beyond / beauties / nature
(vii) tomato / and / cut / cucumber / slices / some
(viii) was / clever / Birbal / extremely / witty / and
(ix) my / bag / lost / in /I/train/the