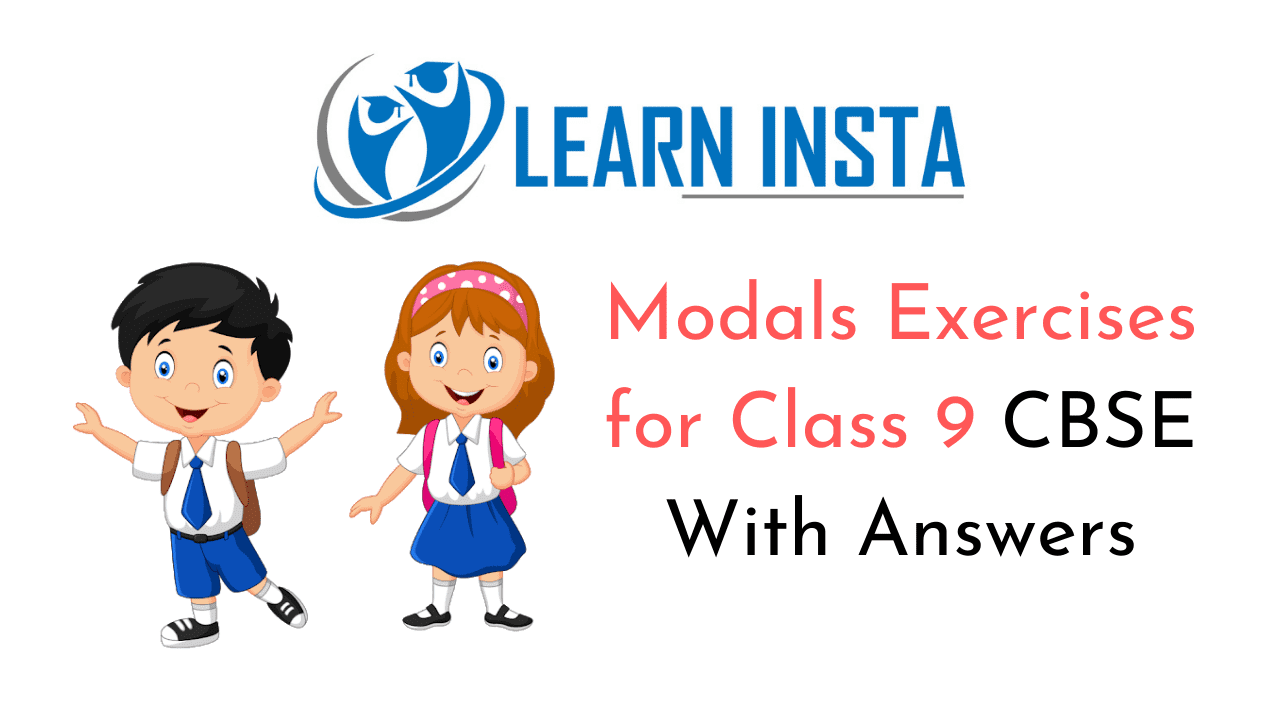 What are the Modal Verbs?
Modals (also called modal verbs, modal auxiliary verbs, modal auxiliaries) are special verbs which behave irregularly in English. They are different from normal verbs like "work, play, visit…" They give additional information about the function of the main verb that follows it. They have a great variety of communicative functions.
Modals are verbs used to express the mood or attitude of the speaker. They are used before ordinary verbs and express meanings such as permission, possibility, certainty and necessity. Modals have not '-s/es' in the third person singular. They have no infinitive and -ing form.
This grammar section explains English Grammar in a clear and simple way. There are example sentences to show how the language is used. You can also visit the most accurate and elaborate NCERT Solutions for Class 9 English. Every question of the textbook has been answered here.
Modals Exercise For Class 9 CBSE With Answers PDF
Has to/Have to
(a) 'HaS to' and 'Have to' are used to express some compulsion, necessity or obligation in the present or future tenses. The expression 'had to' is the past tense of 'has to' and 'have to' and serves the same function.
Rajendra has to finish his work on time.
I have to withdraw money from the bank.
He had to move the almirah himself.
(b) In negatives and questions, 'have to' and 'had to' are used with 'do', 'does' and 'did'.
They don't

have to

worry about food.
She doesn't

have to

finish the drawings.
Prem didij't

have to

go.
Must
'Must' doesn't have a past tense form. We can use 'must' to talk about the present or the future. To talk about the past, we y.se had to (the past form of 'have to'.)
'Must' is used to express
(a) Compulsion
You

must

see the doctor at once.
He

must

work hard in order to pass.
(b) Duty
One

must

serve one's country.
We

must

respect our parents.
(c) Obligation
You

must

help your neighbours.
One

must

obey one's elders.
(d) Necessity
If you want to reach on time, you

must

run fast.
You

must

speak loudly if you want to be heard.
(e) Logical certainty
It is getting dark. She

must

have left already.
Living in such abnormal conditions

must

be difficult.
Mustn't
'Mustn't' is used to convey the sense of obligation, compulsion, etc. as in the case of must but in the negative sense.
We

mustn't

waste our time.
You have fever. You

mustn't

jump around.
she

mustn't

go late for the interview.
Should /Shouldn't
1. 'Should' is used in all persons to express duty or obligation.
We

should

obey the laws.
You

should

be honest.
Children

shouldn't

deface the walls.
She

should

respect her elder brother.
2. 'Should' is used to express caution or purpose
Work hard lest you

should

fail.
Walk carefully lest you

should

fall.
3. 'Advice'
You

should

not speak loudly.
She

should

learn the facts properly.
We

should

not jump to conclusions.
4. Guess/Supposition
It

shouldn't

rain. The sky is clear.
If my father

should

see me at the restaurant, he will be annoyed.
The baby

should

be about a year old.
It

shouldn't

take them more than three hours to reach here.
Need
'Need' is used to express necessity or obligation generally in an interrogative sentence in the present tense.
Need

you worry about your lost documents?

Need

I tell you more?

Need

she pay the amount?
Needn't/ Need not
'Needn't'/'Need not' is used to express necessity in the negative sense.
I

need not

meet him.
I can very well hear you. You

needn't

shout.
You

need not

have abused him.
Ought to
'Ought to' is used to express
1. Obligation or desirability.
We

ought to

love our neighbours.
You

ought to

respect your elders.
He

ought to

get the promotion.
2. Duty
We

ought

to

help the poor.
You

ought

to

respect the traffic rules.
3. Probability
The prices of onions

ought to

come down soon.
4. Logical deduction
The book has been received well. It

ought to

fetch a good price.
The chief guest has left. He

ought to

be here any minute.
Ought Not
'Ought not' is the negative form of 'ought'. It advises against something.
He

ought not

smoke so much.
We

ought not

disrespect our elders.
Note: Usually 'to' is not used after 'ought' when followed by 'not'.
Modals for Class 9 CBSE Solved Exercise With Answers
Fill in the blanks with the appropriate form of the modals.
Question 1.
………………………. you touch your toes without bending your knees?
………………………. I leave now?
It ………………………. rain tonight.
He ………………………. be sick; his eyes are red and watery.
You ………………………. not drive after drinking.
………………………. you like to have a glass of milk?
If you know what is good for you, you ………………………. give up smoking.
You don't ………………………. to get an X-ray.
He ………………………. have been in a lot of pain.
We ………………………. eat a lot of sugar but we don't anymore.
Question 2.
(a) You ………………………. to love your siblings.
(b) I ………………………. to talk to you.
(c) You ………………………. lose your cool over petty matters.
(d) He ………………………. speak politely.
(e) Children ………………………. avoid eating junk food.
(f) You ………………………. carry an umbrella when going out in the Sun.
(g) She ………………………. have distributed the sweets.
(h) They ………………………. complete their work by noon.
(i) Get off the bus carefully lest you ………………………. fall.
(j) You ………………………. show yourself to a doctor urgently.
Answer:
(a) ought
(b) need
(c) must not
(d) should
(e) must/should
(f) must/ought to
(g) must/should
(h) will
(i) should
(j) need to/must
Question 3.
Manish : I (a) ……………………… do practice of wrestling every day
Rashid : But you (b) ……………………… not overexert yourself so much.
Manish : I (c) ……………………… win the competition at any cost.
Rashid : You (d) ……………………… remember that our health takes priority over other things.
Mohan : Oh yes! You (e) ……………………… worry. I am careful about my health.
Answer:
(a) must
(b) should
(c) have to
(d) must ought to
(e) need not
Question 4.
Mr. Kapoor (a) ……………………… to pay the debts of Rajender otherwise, Rajender (b) ……………………… inform the police. Everyone feels that Mr. Kapoor (c) ……………………… return the money. In the first place only, he (d) ……………………… not have taken the money as he is form a well off family.
Answer:
(a) ought to
(b) will
(c) should
(d) should
Question 5.
He is supposed to deliver a lecture today. He (a) ……………………… be in the auditorium by now. Today, he (b) ……………………… get up early to prepare the lecture. It was very well delivered. He said that we (c) ……………………… all think carefully before our actions and (d) ……………………… not miss opportunities in life.
Answer:
(a) must
(b) had to
(c) must
(d) should
Question 6.
Ruby : Papa, I have not seen Qutab Minar, we (a) …………………….. visit it.
Papa : Yes, we (b) …………………….. all go together next week and (c) …………………….. not forget it.
Ruby : (d) …………………….. I remind you papa?
Papa : No child, I shall remember to plan the visit.
Answer:
(a) must
(b) will
(c) should
(d) May