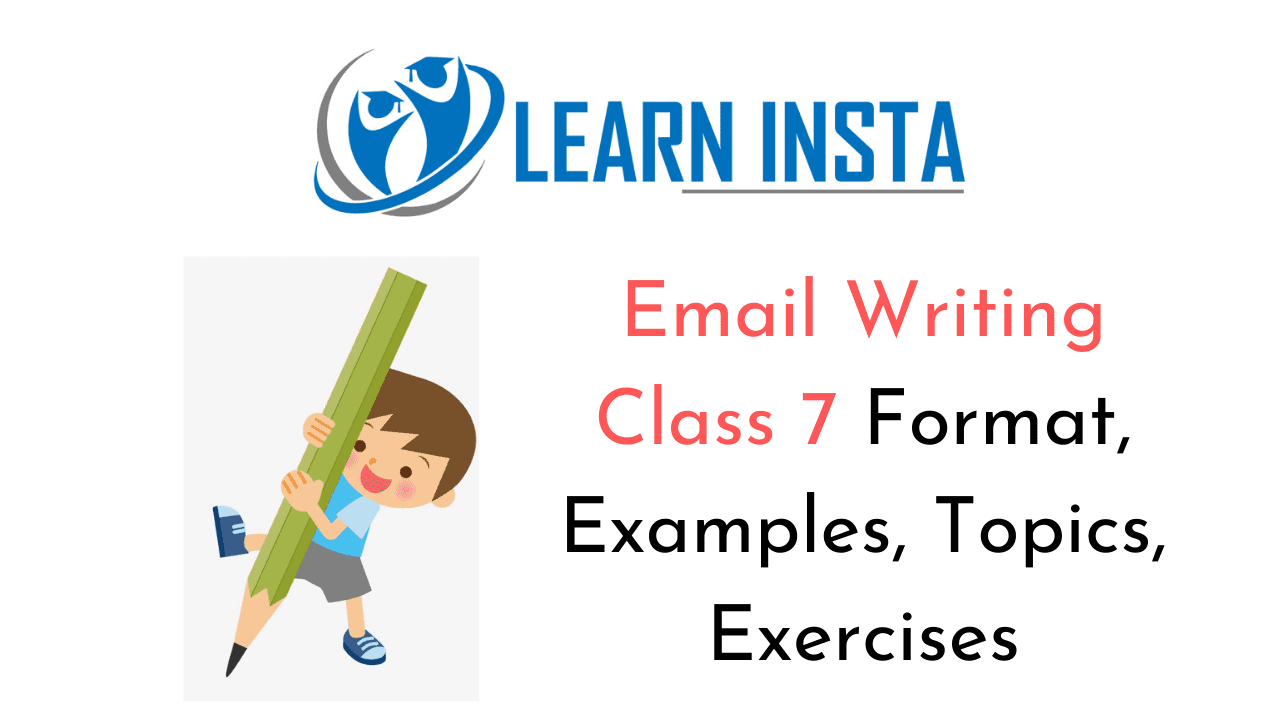 Email is short for electronic mail. In today's digital age, it is the most preferred means of personal and business communication because it is almost instant and in most cases absolutely free.
This grammar section explains English Grammar in a clear and simple way. There are example sentences to show how the language is used. You can also visit the most accurate and elaborate NCERT Solutions for Class 7 English. Every question of the textbook has been answered here.
Email Writing Class 7 Format, Examples, Topics, Exercises
Format:
An Email should be written in the following format:
Email Writing Style
Just like letters, emails can be formal or informal. Companies, organizations, government departments, and offices use formal emails, which are written like formal letters for official communication. Informal emails are personal emails between friends, relatives, and, sometimes, acquaintances and are written in a friendly and conversational style.
Email Writing Language
You should avoid using any contractions, abbreviations, and slang expressions informal, business or official emails. In personal emails, however, feel free to use contracted words. Conventions like greetings, salutations, leave-taking and closing remain more or less the same as in letter writing except that most email messages significantly reduce them or sometimes even leave them out, especially in messages that run into the chain.
Remember the following points for effective email message:
Have a clearly stated subject line Place priority information in the beginning
Be brief without being rude
Use the right tone – formal/informal
Have simple vocabulary, uncomplicated sentences and paragraphs
Use correct grammar and spelling to avoid confusion
Be courteous
End with thanks / a line saying, you look forward to hearing from the recipient
Have a signature that may include position held/address/ phone number etc.
An effective email message must not
Be too long
Be all in capital letters. This is considered as 'shouting'. However, some words may be capitalized for emphasis
Have very confidential or personal information that may fall into wrong hands and cause problems
Be forwarded or circulated unsolicited
Carry attachments with viruses or malicious software in them.
Email Writing for Class 7 With Answers
Solved Examples
Question 1.
Your friend wants to visit Rajasthan. Write an e-mail giving your knowledge about Rajasthan.
Answer:
Date:16/6/20XX:
From:[email protected]
To :[email protected]
Subject: Knowledge about Rajasthan
Dear Mahesh
Hello! How are you I'm fine here? Last week me and my family went to Rajasthan. It's a beautiful place. We enjoyed very well. There are many places which should be seen. Thar desert as you know it's the largest desert in India. Royal Palaces and lakes are also worth watching.
Regards
Jeevan
Question 2.
Write an email to a hotel manager to make a reservation
Answer:
Date: 22/2/20XX
From : [email protected]
To: [email protected]
Subject: To make a reservation.
Dear Sir/Madam,
I am writing this to reserve a nonsmoking room for 3/3/18 We will be spending three nights. We will arrive on March 3rd at 5o' clock in the morning.
Please charge my credit card for the initial deposit required. Include any discounts that my early registration permits.
Credit card number: 4752 6798 3215 9752
Name: Monica Sardana
Expiration date: 25/3/20XX
I am looking forward to receiving a letter confirming my reservation.
Thank you.
Monica
Question 3.
Write an e-mail to the supervisor intimating about your absence sign as Jane Doe.
Answer:
Date: 2/3/20XX
To: Joseph [email protected]
CC: Suzane@ Rediffmail.com
Subject: Jane Doe – Absent From Work
Dear Supervisor Joseph
I've got down with the flu and will not be coming in on Tuesday, March 2, so that I can take rest and recover. I've asked Patricia to check on my clients to ensure all of their needs are met and Tom will prepare the report for our Friday meeting.
I will try and check the email if you need anything urgent.
Thank you,
Jane
Question 4.
Congratulate your younger brother by email as he has won the first prize in an inter-school debate competition.
Answer:
Date: 28/2/20XX
To: Krishna @gmail.com
Cc: [email protected]
Subject: Congratulation on winning first prize.
Dear Krishna
Heartly congratulation!
I was extremely glad to know that you have won the first prize in an inter-school debate competition. I always knew your ability to speak fluently and effectively. It shows you have further sharpened your skill of arguing. You have done pride to all of us in the family. I hope, along with the activities, you will equally perform well in the academic areas.
Love
Rupesh
Question 5.
As a President of Spring Field Residents Club, write an email to the member inviting them to participate in the cleanliness drive to be launched at the central park and surrounding on Sunday at 9:00 am. Send the email to multiple recipients.
Answer:
Date: 7/8/20XX
To: Raghuyadav @gmail.com
Cc: [email protected]
Bcc: Brijesh [email protected]
Subject: Cleanliness drive
Let me make a request and invite to the participants in the central part of our colony to take part in the cleanliness drive to be taken up at 9:00 am on the coming Sunday. To clean the park and Surroundings. The Prime Minister's initiative is being widely acclaimed and we must contribute towards this campaign. Required brooms have already been arranged. Looking forward to your participation.
Rishi malik
President
Question 6.
You have just passed out from a school which is now celebrating its annual day. On this occasion, you have been invited to receive a prize for some past activity. Send an email to the principal regretting your inability to attend the function.
Answer:
Date: 4/3/20XX
To: [email protected]
Cc: [email protected]
Subject: Inability to attend the function
Dear sir,
Kindly accept my heartfelt thanks for inviting me to receive my prize for the first position I had won in a solo song competition in my school days. But I regret to say that I will not be able to come to the Annual day celebration as I have to appear at an entrance exam in an institute that day. I shall come someday to seek your blessings and collect my valued prize.
Regards,
Abhishek
Question 7.
As a student representative of your class, write an email to your batch mates, suggesting a party for class teacher Prof. Sunil who is retiring next month. Sign the email as Sam.
Answer:
Date: 5/9/20XX
To: [email protected]
CC: [email protected]
BCC: [email protected]
Greetings Fellow Mates!
I am here to inform you all that our class teacher, Sunil is going to retire the next month. Therefore, I was thinking to plan a surprise party for him and the hosts for the same will be all of us. We all are his family and he was an exceptional teacher and guide. He was a mentor who was responsible to groom all the students that he taught. His helpful attitude has always been so magnificent. Now it is our duty to recreate beautiful and memorable moments with him. I would request all of you to join the farewell party and kindly give your valuable contributions.
I hope to see you all there!
Thanks and Regards,
Sam
Student Representative
Question 8.
Write an e-mail to express an apology after Cancellation of Order
Answer:
Date: 6/2/20XX
To: [email protected]
Cc: [email protected]
Dear Customer
We have your acknowledge receipt of the canceled order. We went through the letter and the reasons for canceling the order. We feel that due to some misunderstanding we were led to the cancellation. Although the matter is up with management. Let us see what they decide and finalize. But we want to ensure that such a problem does not occur in the future. You are one of our valued customers. Our customer satisfaction has always been one of our primary concerns. We would love to listen from you soon and continue our customer relations with you. Please accept our apology.
Regards
Company
Notice Writing For Class 7 Exercises
1. As a principal of a senior secondary school, send an email to all teachers to participate in a workshop in spoken in school on Sunday.
2. Write an email to the editor of a leading newspaper expressing your strong feeling against a lack of moral values in the younger generation.
3. You have been selected for admission to IIT, Kanpur. Write an email to share your happiness with them. Send it to multiple recipients.
4. You are the Ashutosh Udyog in Rohini, New Delhi. You want to place an order for 150 electrical appliance sets. Write an email to your supplier in Bangalore asking him to supply the sets at the earliest along with the cost details of the goods.
5. You are Amit Gupta. You plan to go to Goa with your family during Diwali break. You decided to write an email to the manager of the Taj, Goa asking him about the details of the hotel including facilities, location, room availability, cost, festival discount etc.