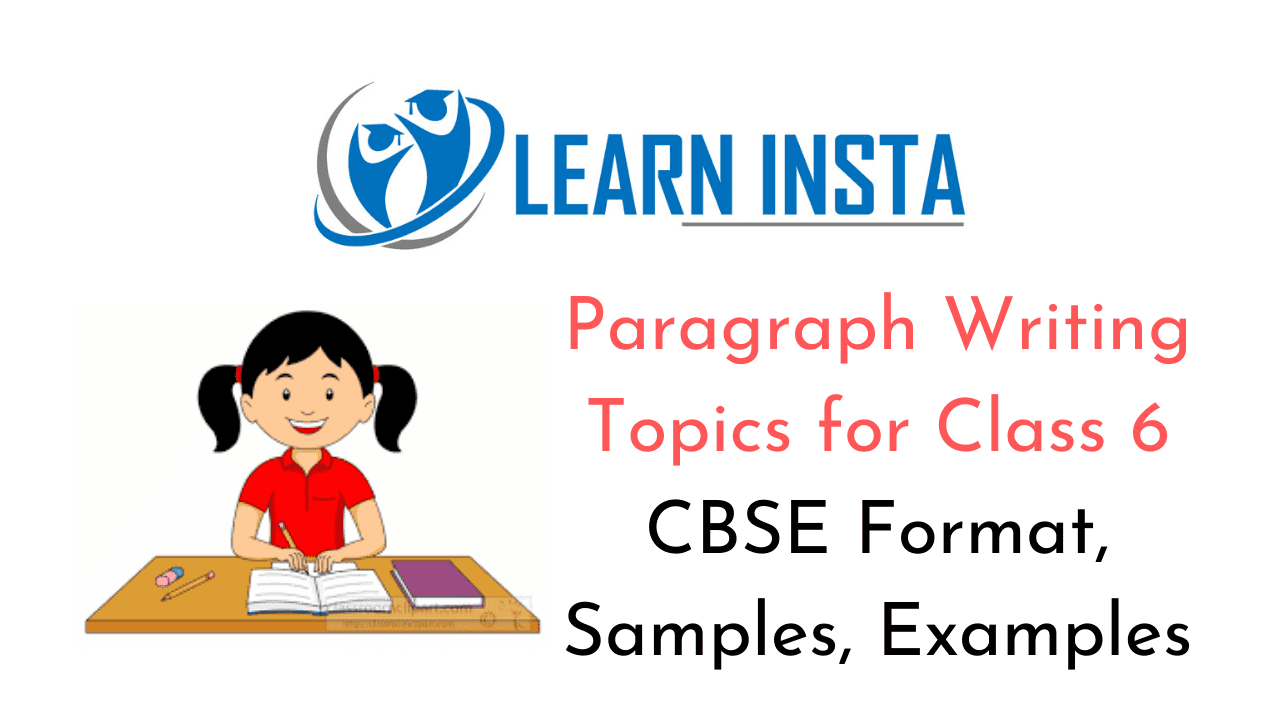 Essays are common in elementary, middle, high school and college, and one may even need to write essays in the business world. An essay is defined as "a short piece of writing that expresses information as well as the writer's opinion." An essay is, generally, a piece of writing that gives the author's own argument — but the definition is vague, overlapping with those of a paper, an article, a pamphlet, and a short story. Essays have traditionally been sub-classified as formal and informal.
This grammar section explains English Grammar in a clear and simple way. There are example sentences to show how the language is used. You can also visit the most accurate and elaborate NCERT Solutions for Class 6 English. Every question of the textbook has been answered here.
Paragraph Writing Topics for Class 6 CBSE Format, Samples, Examples
There are seven steps to writing a successful essay:
Pick a topic. …
Prepare an outline or diagram of your ideas. …
Write your thesis statement. …
Write the body. …
Write the introduction. …
Write the conclusion. …
Writing
For some, writing an essay is as simple as sitting down at their computer and beginning to type, but a lot more planning goes into writing an essay successfully. If you have never written an essay before, or if you struggle with writing and want to improve your skills, it is a good idea to go through several steps in the essay writing process.
For example, to write an essay, you should generally:
Decide what kind of essay to write.
Brainstorm your topic.
Do research.
Develop a thesis.
Outline your essay.
Focus on the Coherence of idea.
Edit your writing to check spelling and grammar.
Kinds of Essays
The first step to writing an essay is to decide what kind of essay to write. There are several main structures into which essays can be grouped:
Narrative Essays: Tell a story or impart information about your subject in a straightforward, orderly manner.
Descriptive Essays: Focus on the details of what is going on. For example, if you want to write a descriptive essay about your trip to the park, you would give great detail about what you experienced: how the grass felt beneath your feet, what the park benches looked like, and anything else the reader would .. need to feel as if he were there.
Persuasive Essay: Convince the reader of some point of view.
Comparative Essay: Compare two or more different things.
Expository Essay: Explain to the reader how to do a given process. You could, for example, write an expository essay with step-by-step instructions on how to make a peanut butter sandwich.
Paragraph Writing Topics for Class 6 CBSE in English
1. My Pet Dog
We keep pets for pleasure. Pet dogs always want to protect their owners. Pets are very playful with their owners. They can sacrifice themselves for their owners. My pet dog is a pug. It is fawn in colour and has a – small built. We have named it Swigi. It has been with us since last 2 years. I still remember the day me and my sister went to the pet shop with my father to bring it home. I somehow wanted to pet a cat but my elder sister, Riya is almost crazy about dogs and was adamant that we get a dog as a pet.
Other members of my family also believed that keeping a dog as a pet was a better choice and so a cute little one month old pug came home with us that day and became a part of our family. Though everyone in the family takes care of Swigi, my sister is especially particular about its cleanliness, vaccinations and eating habits. We make Swigi bath twice a week. It is actually my favourite time of the week. We take it to the terrace and bathe him with a pipe. We make sure it gets its food on time and goes for stroll twice every day.
Swigi also accompanies us everywhere we go. Swigi is quite an active dog and loves playing with ball. It is super fun playing with it.
2. My Family
A person without family is not complete in this world. A family is a group of members which share bond of trust and compassion. Human beings are considered as the social animals living in group called as family. Family plays many important roles throughout the life. A family can be small family, small nuclear, big nuclear or joint family. There are many relationships in the family such as grandparents, parents, wife, husband, brother, sister, cousin, uncle, aunt, etc. A supportive family provides lots of benefits to its all members where everyone shares equal responsibilities within the family.
Every member of the family emotionally attaches to each other in their happiness and sadness. They help each other in their bad times which give the feeling of security. A family provides love, warmth and security to its all members throughout the life which makes it a complete family. A good and healthy family makes a good society and ultimately a good society involves in making a good country.
3. My Best Friend
A friend is anyone whom you can trust. It is very tough for everyone to be involved in the true friendship however if one get it become very lucky in a big crowd. It is a divine and most precious gift of the life. Getting true friend is rare and counted as a big achievement of the life. I am lucky as I have a good friend from my childhood. His name is Naveen and he is still with me. I value his friendship a lot. Really, he is my best and true friend. We both are in class 7 and are studying well.
My best friend is very lovely in nature and loved by everyone such as my parents, my class teacher, my neighbours, etc. He is one of the ideal students of my class. He is very punctual and come to the school at right time. He always completes his home task timely and regularly as well as helps me too. He keeps his books and copies very clean. His writing is very nice and he promotes me to write well too.
4. Myself
My name is Archana Mittal but generally called by everyone as Gudia. I am 12 years old, study in class 7th standard. I am the second child of my parents and have an elder brother. I have a joint family in which my uncle, grandparents and cousins in the same big house. We love each other very much and closely related to grandparents. I have a group of friends however Sheena is my best and true friend. I can share anything to her and she too. We study in the same school but in different sections. I like very much to tell jokes to my friends while being in the bus after school time. I have a unique family.
All the members of my family are broad-minded. They always promote me to do well in every field. They never pull me back instead motivate to do better. My family is a cross-cultural extended family where my uncles, aunts, grandparents, cousins, etc live together. I have great time with my family because we celebrate each festival together. I help other kids in family in doing their home works daily.
5. Diwali
Diwali is the most significant and famous festival of the India which is being celebrated every year all over the country as well as outside the country. People celebrate it very enthusiastically to commemorate the returning of Lord Rama to his kingdom, Ayodhya after a long period of time of 14 years of exile after defeating the Ravana. On the returning dảy of Lord Rama, people of Ayodhya had illuminated their homes and pathways to welcome their Lord with the great enthusiasm. It is a sacred Hindu festival which symbolizes the triumph of goodness over bad.
It is also celebrated by the Sikhs to commemorate the release of their 6th Guru, Sri Hargobind Ji, from the Gwalior jail by the Mughal Emperor Jahangir. Markets are decorated with lights, just like a bride, to give it a marvelous festive look. At this day, market is full of big rush specially the sweet shops. Kids get new clothes, fire crackers, sweets, gifts, candles and toys from the market. People clean and whitewash their houses and decorate with electric lights some days earlier to the festival,
6. My School
A school is very genuine place like a temple where we go daily to learn and study to go ahead in our life. We pray to God daily in the school for our better lives and proper study. We say good morning to our class teacher daily and she responses with her smiling face. Our school has a big garden back to the school building. School is the place where we learn everything with the help of our teachers. They help us in working hard for our study and make us tough to go ahead in our life.
They tell us about cleanliness, hygiene and proper healthy diet. Our teacher always motivates us to take part in the sports activity, quiz competitions, oral and written ac tivities, debates, scouting, group discussion and other activities in the school.
Our class teacher teaches us to maintain discipline of the school and keeps the school compound clean and tidy. Our principal tells us motiva tional messages daily on the stage of prayer. We learn to be honest, truthful, obedient and sincere in our whole life. We learn how to concentrate on the study in the class room. Our school organizes a quiz competition, dance competition and sports competition annually which is compulsory for us to participate.
7. My Favourite Teacher
My favorite teacher is Rajani mam. She is my class teacher too and takes attendance daily in the morning. She is a strict teacher. She is also very funny and caring in nature. She is very disciplined and punctual. She does her all the works and projects related to the class at right time without getting late. I like her very much as she tries very easy ways to teach us good things.
We enjoy her class. She teaches us English subject. She makes us laugh by telling lots of jokes in between when she teaches. She also guides us very well during any school or inter-school competition of dance, sports, academic, etc. She teaches us to share things in class among our class mates such as lunch or other needed things.
8. Summer Vacation
Summer vacation becomes the summer time fun for the kids which begin with the ringing of last bell in the school. Summer vacation becomes the happiest moments for the kids as they get a long break from the daily hectic life of school and school work. It is the time to get entertained by getting away from the homework and nice trip to the home town, hill stations, and other cool places to beat the summer heat very easily and happily.
However, students get lots of home work assignments from the school to complete at home and submit in school after opening. Even after getting assignments to do at home, they feel relaxed and entertained as they get off from the school because of high heat summer. Summer time is the quality time for the kids. It is the time of simple pleasure and excitements. Kids can do anything what they are interested in. They can enjoy with their parents, best friends, neighbors, etc all through the vacation.
9. Taj Mahal
Taj Mahal is a most attractive and popular scenery look historical place. It is located in the Agra, Uttar Pradesh. It is situated in very large area having river on its back side. It looks like natural scenery. It looks like a heaven on the earth. It is built using white marble. It attracts people's mind from all over the world to see every year like a love at first sight. Taj Mahal is the symbol of the eternal love of the ShahJahan who had built this in the memory of her wife Mumtaz Mahal. Taj Mahal is counted as one of the Seven Wonders of World. It is the burial place (mausoleum) of the great Empress Mumtaz Mahal.
10. Importance of Trees
Trees give us life directly and indirectly as they are source of oxygen production, CO, consumption and source of rain. They are most precious gift to the humanity on the earth from nature. We must be grateful, give honour and preserve it for the wellness of mankind. We should understand importance of trees in our lives and do our best to save trees in order to save life, save environment on the earth and make earth a green earth.
Trees are as valuable as gold that's why they are called as "Green Gold" on the earth. They are the real source of our health as well as wealth because they give us oxygen, cool air, fruits, spices, vegetables, medicines, water, wood, furniture, shadow, fuel to burn, houses, fodder to animals and other useful things. They consume toxic gases, refresh air and prevent us from the impacts of air pollution.
11. Nature
We live on the most beautiful planet, Earth, which has very clean and attractive nature full of greenery. Nature is our best friend which provides us all the resources to live here. It gives us water to drink, pure air to breathe, food to eat, land to stay, animals, plants for our other uses, etc for our betterment. We should fully enjoy the nature without disturbing its ecological balance. We should take care of nature, make it peaceful, keep it clean and prevent it from the destruction so that we can enjoy nature forever. Nature is a most precious gift given by the God to us to enjoy so we should maintain it.
12. Mahatma Gandhi
Mahatma Gandhi is very famous in India as "Bapu" or "Rastrapita". His full name is Mohandas Karamchand Gandhi. He was a great freedom fighter who led India as a leader of the nationalism against British rule. He was born on 2nd October in 1869 in Porbandar, Gujarat, India. He died on 30th of January in 1948. His services to the nation is incredible. He united the whole nation and fought with dignity and simplicity. Britishers also respected him a lot. He has been given another name by the Rabindranath Tagore as "Martyr of the Nation" since 1948.
13. My Daily Routine
I am a student. My daily life is very simple. I get up early in the morning. I wash my hands and face. Then I go . to for a walk. I walk for half an hour as it refreshes me. I come back and take my breakfast. I eat an egg and drink a cup of tea. Then I sit down to prepare my homework. I read for two hours. After finishing my study. I put on my school dress and go school. I reach school punctually. I like to sit on the first bench I attend school regularly.
I am very attentive in the class. I wash my hands and take my food. I put on my school dress and go school. I listen carefully to what the teachers say. There are some naughty boys in my class. I do not like them. I mix with good boys. After the fourth period, we have a recess for half an hour I go to the reading-room and read book or a magazine. I do not like to waste my time. This is my daily life. I try to utilize every day. Time is very valuable for us. We should not waste it.
14. Independence Day
India got independence on 15th August in 1947, so people of India celebrate this special day every year as the Independence Day on 15th of august. In the event celebration, organized in the National Capital, New Delhi, the Prime Minister of India unfurled the National Flag in the early morning at the Red Fort where millions of people participate in the Independence Day ceremony. During the celebration at Red Fort, New Delhi many tasks including March past are performed by the Indian army and cultural events by the school students are also performed.
After the National Flag hosting and National Anthem (JANA GANA MANA) recitation, the prime minister of India gives his annual speech. At India's Independence Day, we commemorate all the great personalities who had played an important role in making India free and independent. During the Independence Day celebration, the National Flags are also hosted in school and colleges where many activities are performed by students.
15. My Dream
Dream is a strong desire to achieve something in life. I believes everybody has their own dreams and keeps moving towards our goals. My Dream is to become a successful scientist. The main area where I would like to focus my attention is the medical and pharmaceutical sector. As a scientist, I would conduct research to develop cheaper varieties of medicines and pharmaceutical products so that the poor people can afford them. I would like to find medicines for non-curable diseases and invent cost-effective devices using robotics for early detection of diseases like Cancer, Stroke and other possibilities for Organ transplantation and life-threatening disease.
I would also make low-cost medical equipment so that much money is not spent on importing them from other countries. I will study hard and do a lot of hard work to become a scientist and face those great challenges. In order to pursue my dream, I may face failure but I will not step-down. I wish to use my inquisitive nature to fulfill my dream. My parents always support me and think highly of my dreams. They get me encyclopedias and take me for science fairs and exhibitions. I will definitely become a Scientist one day and make my parents, teachers and nation proud.
16. Visit to a Circus
It was one of the most memorable days in my life when my father announced that the coming weekend we all will go and watch circus. I couldn't control my excitement and jumped up and down as I don't know how I managed to spend that Saturday night. I was not able to sleep properly. The day came. The show was scheduled for 4 pm. Myself, my sister, dad and mom took a 20 minutes' drive to Marine Drive where the great Majestic circus was running for the last one week.
We grabbed our tickets and took a front row. It was a huge tent arranged in a dome like circular shape. As expected, it was a full house. The show started with a spectacular introduction light and sound show by the dancers. The clowns then took the stage. Then came the gymnasts with their amazing show of flexibility and acrobats. It was breath taking when the gymnasts were performing the trapeze acts and tightrope walking.
I was thinking how much efforts and training these guys might have underwent to perform so precisely. A single error would have been disastrous even though the safety net was there in place. It was then the turn of cyclists. The balance and the control shown by them was truly unbelievable. This was followed by the motorcycle performance. The motorists performed inside a huge well like structure and mesmerized the crowd with some amazing and daring stunts. Finally, it was the turn for the animal show which I was anxiously waiting for.
Initially different parrots came on cycles and elephants played cricket. Lions and the black panthers behaved like pets, listening and obeying their masters. It was only at the end of the huge group show, where all artists took the stage I realized that three hours have past and the show is going to end. That day remains one of the best days in my life.
17. My Favourite Cartoon
My favorite Cartoon character is Doraemon. He is a cat robot from the 22nd Century. He has a pocket on his stomach and many gadgets in it like the "bamboo copter", anywhere door, fast/slow perfume, Gulliver's tunnel, small light and big light etc. His sister's name is Doremee. Doraemon lives with his best friend Nobita. Doremee lives in the 22nd Century with Nobita's grandson in the future world. Doraemon came through the time machine which is in Nobita's drawer. Nobita is a very lazy boy and he asks different gadgets to Doraemon for whatever he has to do.
Nobita doesn't study at all and so gets zero in all his tests. He always falls into some trouble, because he misuses Doraemon's gadgets, but Doraemon always save him. Nobita's friends always bully Nobita, but when Nobita cries and runs home, Doraemon always teaches them a lesson. This shows Doraemon's love for Nobita. I like Doraemon because he takes care of every one and hence helps every body. He shows us the way to success that if we are honest and hardworking, we will be able to overcome all our problems.
18. My India
India is a famous country all over the world. Geographically, our country is located to the south of Asia continent. India is a high population country and well protected from all directions naturally. It is a famous country for its great cultural and traditional values all across the world. It contains a mountain called Himalaya which is biggest in the world. It is surrounded by the three big oceans from three directions such as in south with Indian Ocean, in east with Bay of Bengal and in west with Arabic sea.
India is a democratic country ranks second for its population. The national language of India is Hindi however almost fourteen nationally recognized languages are spoken here. It is an amalgamation of different religion, language food, flora and fauna.
19. My Favourite Subject
My favourite subject in school is English. It is quite easy and pleasant to study it. English is used in each field of life and it is useful to know it. Most of web sites are in English. It is nice to be able to use such a sites like Yahoo, MSN and English Wikipedia. I can get a lot of information and news in English. I can use English books and magazines. Sometimes I like to download e-books and magazines in pdf. It is effectively way to study English in home. Using English, I can communicate with many peoples. I can use Skype and ICQ to talk and chat and get new contacts. Most of movies are in English.
I like to watch them without subtitles. The last advantage to know I can communicate with domestic and foreign tourists easily. Once I helped a tourist with directions to help him to reach Airport. All of us study it in everyday situations and activities. The language is quite simple and logic. I use it all the time.
20. National Flag of India
The national flag is our unique identity of being a citizen of an independent nation. Every independent nation has a unique flag. Our national flag is a symbol of unity and freedom. The national flag is hoisted on every national occasion by the government official. However, Indian citizens are also allowed to fly the national flag on some occasions. It is hoisted in the government offices, schools and other educational institutions on the occasions National Events like Republic Day, Independence Day etc. Indian national flag was first time adopted on July 22nd in 1947.
Our national flag is a beautifully designed tricolor flag, also known as Tiranga. It is made up of hand made Khadi clothes. It is completely restricted to make the Indian flag using clothes other than the Khadi. The topmost color of the national flag is saffron, middle white and lower deep green. Saffron color symbolizes sacrifice and selflessness, white colour truth and purity and green youth and energy.
21. Dussehra
The festival of Dussehra (also called Vijayadashmi) is celebrated every year by the Hindu people all over the country. It falls every year in the month of September or October twenty days ahead of Diwali festival. It is celebrated by the Hindu people in the happiness of winning of Lord Rama over the demon king Ravana. The festival of Dussehra indicates the victory of truth over evil power.
The day Lord Rama got the victory by killing the demon king Ravana started celebrating as the Dussehra festival by the people from ancient time. In the ancient time, Prince Rama was exiled of his kingdom of Ayodhya for 14 years. During the last year of his exile, Ravana kidnapped his wife, Sita. It is said that Lakshman had cut the nose of sister of Ravana that's why Ravana kidnapped Lakshman's sister-in-law, Seeta. People celebrate this festival with lots of joy and faith.
22. Good Manners
Good manner is the well-behaving manner of the person which adds good impression on others as well as gives good feeling and confidence about oneself. Practicing good manners is very important for all of us and it is good if we do it from childhood with the help of parents and guardians We must behave in good manners whether we are at home, school, college, office, tourist places, or with friends. Being polite and courteous to others shows our real behavior, thinking and mind level.
It attracts people's mind and attention if they get respect from us. Being a well-behaved person, we set a standard for others too which encourage them to practice good manner and behave well. It is not easy to follow all the good manners for everyone however can be easily followed after practicing well.
23. Mother
A mother is the most precious person in life. We cannot describe completely in words. However, some of the valuable moments with our mother can be described. A mother is the most beautiful and caring person in our lives. She always cares every moment for our every need without her any personal intention. In the morning, she calls us very softly to get rise from the bed and during night she tell us lovely stories to make us sleep with a beautiful dream.
She helps us to get ready for school with proper breakfast and hygienic lunch. She always waits at door for us while we return from school. She helps us to do our school homework. She becomes muse when one gets ill and can also be a friend to play with.
Paragraph Writing Practice Topics for Class 6 CBSE in English
A morning walk
The scene at a railway station
My birthday party
Television
My neighbor
Importance of cleanliness
Health is wealth
Discipline
Honesty
A visit to the zoo