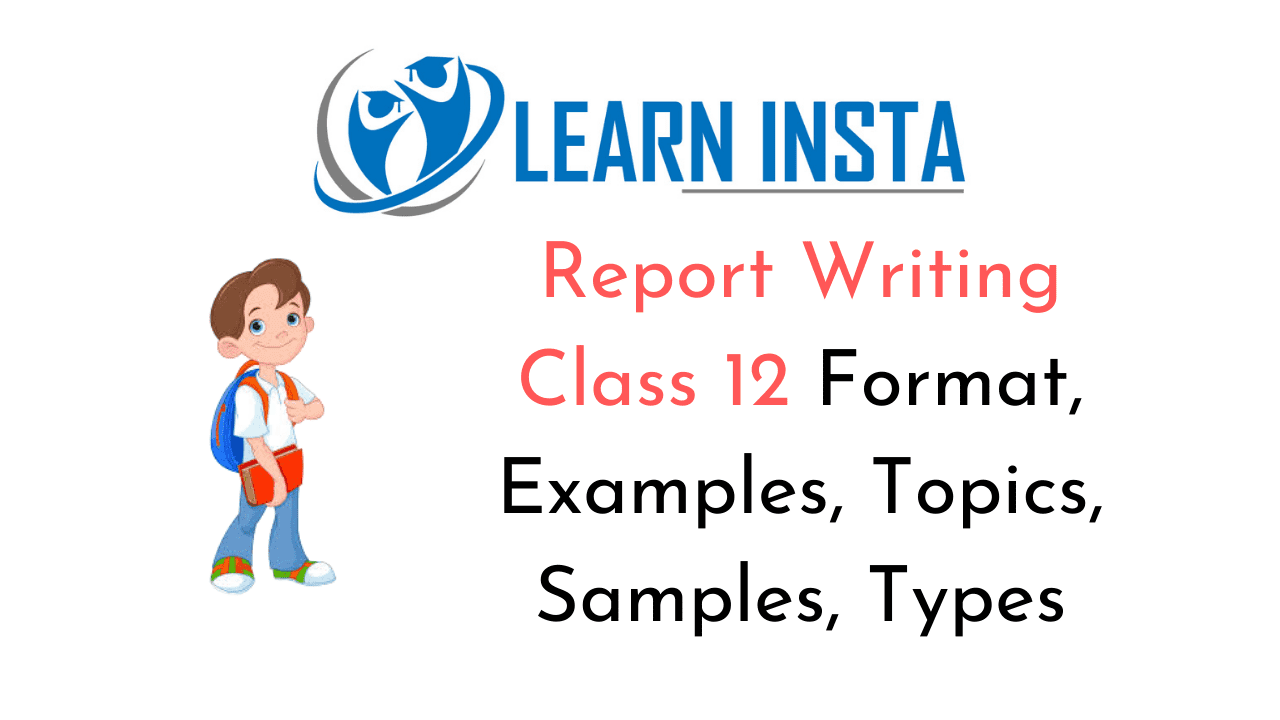 A report is a factual description of an issue or a problem. A report is written for a clear purpose and for a particular audience. Various forms of reports are: newspaper reports, inquiry reports, progress or action taken report, a police report, a report of a meeting, etc., each having a distinct character and format.
This grammar section explains English Grammar in a clear and simple way. There are example sentences to show how the language is used. NCERT Solutions for Class 12 English will help you to write better answers in your Class 12 exams. Because the Solutions are solved by subject matter experts.
Report Writing Class 12 Format, Examples, Topics, Samples, Types
Newspaper Report
A newspaper report must be comprehensive, but brief, factual yet interesting. Hence, factual reporting is the accurate and truthful coverage of an event.
It is a brief review of a situation or a process that includes only the relevant points and information.
It is usually written in the third person and indirect speech.
Passive voice is used.
The language is neutral and figurative.
Ornamental language is avoided. The content should include answers to the questions when, where, why and how on the topic to be written about.
Characteristics of a Newspaper Report
A news report should have a headline, date, place of origin of the news.
It must contain the byline/name of the reporter.
It must contain only relevant information.
The newspaper report must have appropriate language for a report.
It must contain a logical development of ideas, i.e. causes/reasons, effects or consequences.
It must include the opinions of people and it should be comprehensive. It should contain views of all sides involved.
Personal pronouns are to be avoided.
Format:
A newspaper report consists of the following elements:
Headline:
Every news article has a headline to attract the attention of the reader. The headline must state the topic of the news in a strong, short phrase or statement.
A headline must be:
catchy
brief-articles, prepositions, etc. must be left out wherever possible; abbreviations and shortened word-forms may be used wherever required
Byline
Since this is your news article, you need to let the reader know who wrote it. The line with your name on it is called the 'By' line because it tells by whom the article is written. Write the word 'By' followed by your first and last name.
Lead Paragraph
A lead paragraph usually answers the questions: Who, What, Where, When, Why. The report usually begins with the name of the city where the report is being written and the date when it is being written.
Remember to write about these in your lead paragraph.
day, date, and time of the day when the incident happened
name/names of the person(s)/event(s), etc. that the news is about
a place where the incident happened
details of the incident
reasons why the incident happened
Paragraph 2
The second paragraph should tell the reader how the incident happened in detail. Narrate the incident in chronological order.
Paragraph 3
Eyewitness accounts add to the authenticity of the news. Also, they may interest the reader. Include some quotes from the eyewitness' comments. Also, describe what they felt about the incident.
Paragraph 4
Describe the future course of action is planned.
Remember to use simple, clear but formal language.
Question 1.
You are Pranjal/Paakhi. You have received training in first aid, as a member of the Red Cross Society, arranged by your school. Prepare your report for the school magazine about your training in 100–125 words.
Question 2.
Cultural Society Sunshine Public School, Nellore organised an Adult Literacy Camp in its neighbourhood. Write a report in 150-200 words on the camp for your school newsletter. You are P.V. Sunitha, Secretary. Use the following clues: no. of volunteers – hours spent in teaching – location of the class – chairs, blackboards – no. of people attending the camp – benefit (10 marks) [CBSE (Delhi) 2017]
Answer:
Adult Literacy Camp
By P.V. Sunitha, Secretary, Cultural Society, Sunshine Public School,
Nellore
Nellore, May 01, 20XX: A commendable step was taken by the members of our Cultural Society of the school to organise a Literacy Camp to invite members of the local school- clubs, residents of various welfare organisations, and several NGOs to be a part of it. The camp started around 8 a.m. It was inaugurated by the District Literacy Chairperson, Dr. Nitin Rahtogi. Various NGOs, local clubs and schools had sent their representatives.
The total number of volunteers registered was 450. There were six experienced trainers who systematically explained with tools how the literacy programme is to be introduced in different pockets and continued in these phases to reach its target annually. Classes were held in six different spots within a short radius of the camp. The main tools were blackboards, chairs, basic texts on reading, writing and arithmetic. The camp lasted for five hours with a snack break for half an hour.
The volunteers expressed their gratitude for getting the opportunity of learning more than they expected, for the beneficial interactive sessions and for getting a scope to clear their doubts. The camp came to an end with the vote of thanks from the President of the host club.
Question 3.
Your school is situated near a road intersection. Last week, in the morning, a bus coming at a great speed overturned when it braked suddenly. Senior students of your school rushed out and did everything to save the passengers. You were part of the rescue efforts. Write a report in 150-200 words on the accident and your friends' role, for your school newsletter. You are George/Mary. (10 marks) [CBSE (AI) 2017]
Answer:
Bus Overturns on NH2 and NHPC Crossing
By Mary
Pari Chowk, March 10, 20XX
At about 8.30 a.m., yesterday, a private bus, carrying passengers, of Rome S-22, coming at break-neck speed, while trying to overtake a Honda City, braked suddenly as a boy ran to cross over the other side of NHPC or Pari Chowk. In seconds, the bus overturned. It could have been that the driver lost full control of the bus and the breaks failed or the size of the bus was incompatible with its speed and the sudden break. Passengers could be heard yelling and crying for help. As the school had not started, the High School students near the school gates immediately rushed to the spot, tried to get ladders and after breaking the glass panes, dragged passengers who were terrified and injured. Some were already with broken heads and limbs. Local help came in ten-fifteen minutes. The ambulance arrived and the police from the nearby police station on being called up by a senior student arrived to help in the rescue operation. There were 40 passengers on the whole. 3 women passed away, 5 children had serious injuries, some were moved to % the nearby hospital, while a few were given first-aid by the school medical team and sent away. The driver had serious head injury and a broken arm, while the helper died on spot.
It is high time that drivers become more responsible, frequent police patrol is arranged for at intersections and heavy penalty is imposed on crossing speed limits.
Question 4.
Last month, Adventure Club, Sunshine Public School, Rampur organised a trek around Corbett National Park. During the eight-hour trek, the group lost its way but ultimately reached the starting point. On return, you, Asim/Asha, the group leader made a report on the trek to the Principal. Write his/her report in 150-200 words. (10 marks) [CBSE (F) 2017]
Answer:
School Trip: Trek Around Corbett National Park
By Asim
The Adventure Club of our school organised an eight-hour trek around Corbett National Park. A group of 30 students and 3 teachers embarked on the trip. It was a fun-filled trip away from school and at home. Trekking through beautiful forests provided a glimpse of the beautiful scenic foothills and the Himalayan Mountain.
We reached Corbett in the morning at 6:00 a.m. in our school bus. After reaching there, we had our breakfast, which was not only healthy but also tasty. Then we began preparation for the trek. The teachers divided all the students in three groups for the trek. Each group was to be led by a teacher. Our guide gave us all the instructions of dos and don'ts during the trek. We were all very excited and enthusiastic.
Question 5.
Traffic police have launched a special drive against pollution-causing vehicles. This has led to traffic jams and crowds at important intersections. Write a report in 150-200 words to be published in the 'Chennai Times'. You are Prince/Priya, 12, M.G. Road, Adayar, Chennai. (10 marks) [CBSE Delhi 2013]
Answer:
Drive against Pollution-causing Vehicles
-Priya
Chennai Times
Traffic jams are a common sight in Chennai. But these days, they are on a rise. All because of the special drive-by traffic police against pollution-causing vehicles. Important intersections have been chosen and the concerned people can be seen in groups stationed at these points. Each and every vehicle is being stopped and their 'No Pollution certificates' are being checked. ? 1000/- is being charged as fine for the lapse. This drive is a positive step in achieving a pollution-free environment but has created a lot of inconvenience for the public and the daily commuters, as it has led to traffic jams. People are stranded on the roads for hours, getting late for their place of work. Though the new drive is highly appreciated by the people, they also feel that it is important that the public should not suffer. The authorities must find an alternative way for such a check that would cause less inconvenience to the general public.
Question 6.
You are Karan/Kirti of L.M. Memorial Public School, Dwarka. Your school has adopted a village as a social responsibility. Students are being taken to teach the children of the village on a regular basis. Write a report, for your school magazine, on the various other programmes organised there in 150-200 words. (10 marks) [CBSE Sample Paper 2019]
Answer:
Village Adoption – A Social Responsibility
By Karan
Recently, the students of L.M. Memorial Public School were taken to a village in the Periphery of Delhi. This village named as 'Khyala' near Najafgarh was adopted by our school for a month as a social responsibility. The main motive for this adoption was to spread awareness among the people about cleanliness, adult education, girl- child education, and removing the social evil of poverty and illiteracy. The students from Classes IX and XII participated in it.
The village students were given elementary knowledge. They were taught the alphabet, addition, subtraction, etc. Not only this, they cleaned the surroundings of the village and showed the people the need to maintain cleanliness through a street play. Old people were also attended with great care. The students provided them with some necessary day-to-day things. It was innovative and informative on the part of the villagers. The students learned how to connect with the roots of our country. Overall, it was a memorable experience for all to serve the people of this village.
Question 7.
An NGO, 'Health for All' organised a health check-up camp in a slum at Amritsar. You are Ruchika/Raunak, and you visited the camp. Write a report in 150-200 words covering arrangements such as registration, check-up, tests carried out, etc. (10 marks) [CBSE 2019 (1/2/1)]
Answer:
Health Check-up Camp
By Ruchika
Amritsar, March 2, 20XX
A medical health care camp was set up in Amritsar by the NGO-Health. In the camp, proper medical treatment of the people of Amritsar and nearby areas was done and remedial measures were provided, all free of cost, including the basic medicines required for early recovery.
Students of Guru Nanak University, Amritsar noted down the details of the people of slum area who had come for the health check-up. People were encouraged to do simple activities on a regular basis to get rid of excessive body pain. A Blood Pressure (BP) check was performed on every patient. After that, they were sent to their respective doctors where they were appropriate given the right directions regarding their health.
A large majority of people were suffering from chronic back pain, swelling, watery eyes and high/low BP. This is a prime example of how the slums can be served appropriately if we are interested. We need not be high-profile citizens to bring about a change in society. It is the willingness and enthusiasm which comes out from within that encourages you to work for the betterment of others.
Question 8.
As part of an Entrepreneurship project the commerce students of your school recently launched a product called oatlicious. They not only set up a company to produce the product but also designed its advertising and marketing strategy. Write a report in about 150-200 words for your school magazine giving details of the enterprise and its launch. You are Akshay/Akshita of Graham Public School, Indore (10 marks)
Answer:
Oatlicious – The product of Entrepreneurship project By Akshita
July 25, 20XX: The commerce students of our school recently launched a new breakfast product, Oatlicious. This was a part of their entrepreneurship project. The students went ahead to not only set up a company to produce the product but also designed its advertising and marketing strategy. Just like its name, the product tastes and looks delicious.
The product box has a picture of a huge bowl of delicious looking oats. The group also revealed that they have already started selling the product in small 10 rupees pack at the canteen. On the first day of the launch, the students gave free oat packets to the first ten students. Baveen, one of the team members revealed how much struggle they had to face initially to come up with an innovative idea for the project. According to him, it was just a project earlier but now it has become their dream. Baveen and his team found it hard to get sponsors earlier. He revealed how they did part-time jobs and asked their parents to sponsor the project. Now that they are successful, Vibha, one of the teammates revealed that they are getting offers from many companies. They have, however, not decided anything and are just happy and thankful for the response they got.
Question 9.
You are Sandhya/Sohan an active member of the Animal Lovers' Club which works for the welfare of animals by preventing cruelty to them. Recently, you visited Mahatma Gandhi Animal Care Home. You were pleasantly surprised to see the good treatment given to the animals. Write a report in 150-200 words on your visit. You may use the following points: (10 marks) [CBSE (Compartment) 2018]
injured dogs and cats-abandoned pets-very old animals-all very well cared for-well-equipped medical room-veterinary surgeon-green surroundings.
Answer:
Visit Mahatma Gandhi Animal Care Home
By Sandhya, Member of Animal Lovers' Club
Recently, I visited Mahatma Gandhi Animal Care Home with my team. The existence of animals adds charm to the natural surroundings. They too are part of natural habitat. People leave them if they become old or have a disease. These abandoned pets are given shelter at Animal Care Home. My team was really surprised to see the care of these animals when I saw how well they were being treated. There was a well-equipped medical room.
A veterinary surgeon was also present. Animals were allowed to live in the natural surrounding there having their separate living places, huts, and kennels, etc. Injured dogs and cats were also given a congenial environment. This was a positive step on the part of Animal Care Home. All the abandoned animals are searched and then brought to this home by the officials where they are medically and emotionally cared for. Overall, the visit to this Animal Home proved fruitful as it gave inspiration to the youth (members) to spread awareness to love animals rather than treating them with cruelty.