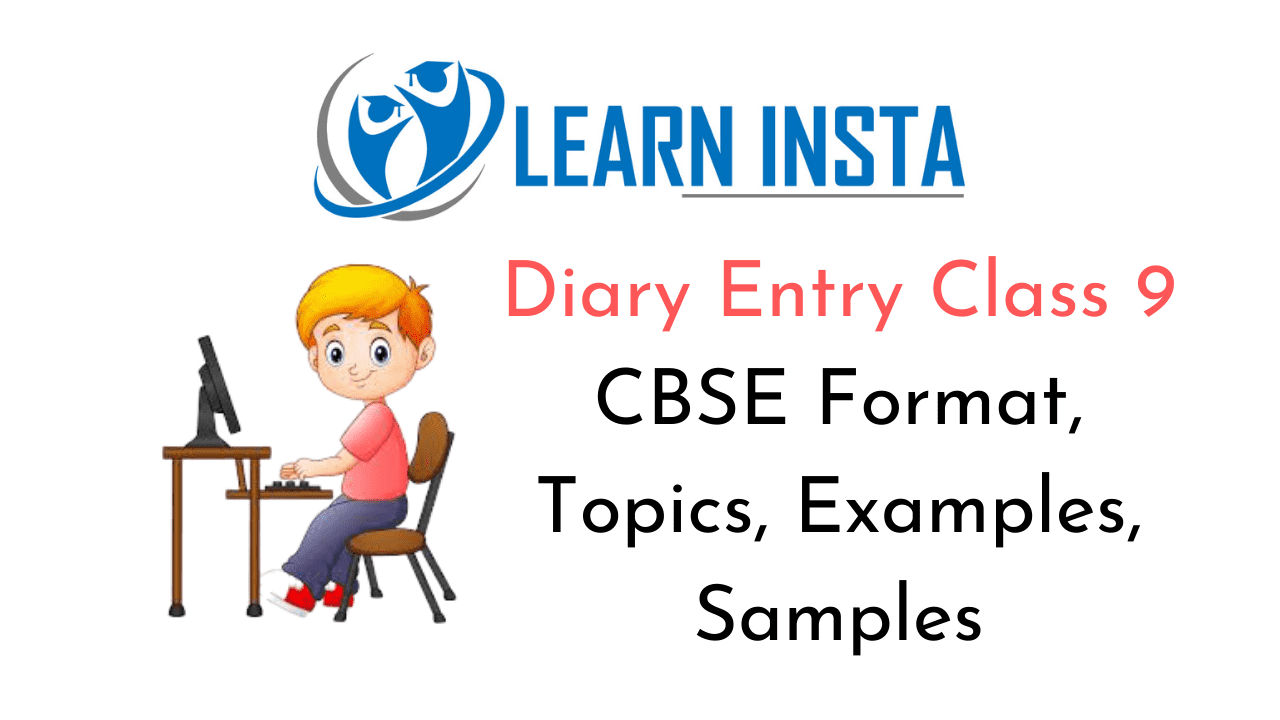 writing is the writing down of events, transactions and observations in a highly personalized manner. It is wrapped around creative thoughts and is basically the outpouring of what one feels or has experienced with regard to a particular stimulus. A diary can be written on a daily basis or at intervals, depending on the inclination of the writer.
This grammar section explains English Grammar in a clear and simple way. There are example sentences to show how the language is used. You can also visit the most accurate and elaborate NCERT Solutions for Class 9 English. Every question of the textbook has been answered here.
Diary Entry Class 9 CBSE Format, Topics, Examples, Samples Pdf
A diary entry is a form of writing where an individual records an account of the day. We record important and significant days and with it our personal feelings. Thus, it is a personal document. The general format of a diary is given below.
Date, Day
What you saw/experienced
Your reaction to what you saw/experienced
Style
A diary entry is personalized so write in first person.
At times you may leave out the pronoun 'I'. For example, "am really excited …''/"Went to the beach today …"
Refer to personal memories and give details.
Use conversational and friendly language.
Refer to parents, friends, etc. as how you would address them in person. For example, "Mom said …''/"Rohit came along …''/"Shweta just wouldn't listen …."
Stress on feelings, emotions, reactions rather than on the event itself.
You may mention the time of the entry as well.
Diary Entry Solved Question With Answers for Class 9 CBSE
Question 1.
All the news channels were reporting the earthquake in Nepal on 25 April 20XX. After watching the effects of the natural disaster, write a diary entry about what you were feeling at that point in time.
Answer:
25 April, 20XX
10 a.m., Sunday I am really sad about what happened yesterday.I was watching the news when suddenly I got to hear that a big earthquake had hit Nepal. I was shocked to see so much destruction in just a matter of minutes. I was genuinely scared by what happened and hoped there would be fewer casualties. Was praying for my friend in Nepal would be okay. I tried calling but I could not get through. I'm very worried. I have sent a message, hoping he'll call back.
(your name)
Question 2.
You are Naresh. You happened to go to Agra on a crowded bus on a hot summer day. Record your experience in 100-150 words in your diary.
Answer:
Wednesday, 10 October 20XX
Dear Diary,
10 p.m.
Today I had the bitterest experience of my life. I never had such an awful experience in my life. I had gone to Agra for urgent work. There were very few buses running today as most of them had been put on Election duty. I waited for two hours at the bus stop to get into the bus. It was much crowded. People were pushing each other. Luggage was falling over people. The bus was more than full to its capacity.
There were brawls, even fistfighting which was somehow brought under control by the timely intervention of some elderly passengers. I somehow managed to get some space for myself. It was really difficult to even breathe for me. Everyone was sweating. After the journey of two hours, I came out of the bus and took a sigh of relief.
I will never forget this journey in my life.
Naresh
Question 3.
You are Neha. Today is your birthday and your father has gifted you a laptop. You are very happy to own it as you wanted to have for a long time. Before going to bed you intend to share your joy with your diary. Write a diary entry in 100-150 words expressing your feeling.
Answer:
Tuesday, 19 October 20XX
Dear Diary
10.30 p.m.
My joy knows no bounds today. It is my birthday and my father has given me a portable laptop as a gift. It is like a dream come true as I wanted to possess one for a long time. Now I would be able to browse the necessary information that I could not find in the library. I can't thank my father enough for the gift that he has given. He has never deprived us of anything in life.
Now, I can communicate with people through email and even chat with my friends. I can play games during my leisure time. Although, it is a small thing it holds the entire world. I hope I am able to use this gift effectively. The Internet today can make us global. So, it has great relevance in today's world.
Neha
Question 4.
The annual examination results have been declared and you found out that you have secured first division but your closest friend was unsuccessful. Write a diary entry about how that made you feel and what you think would help to motivate him/her to work harder and try for a re-examination.
Answer:
(date)
(time), (day)
The annual exam results got declared today. I was very happy that I could get at least a first division. My parents would be very happy when they hear about this. But I'm also slightly sad and worried about my friend Raj. He couldn't clear his exam and he is very upset. I think I'll go cheer him up sometime tomorrow and help him get back on his feet. I'll tell him it's not too late. He can appear for the re-examination paper now instead of waiting for next year. I hope things work out.
(name)
Question 5.
A peaceful protest march was launched by students all over India against the growing crime against women in the capital city. All the news channels gave wide coverage to the rally inviting different opinions on the issue. Make a diary entry in 100-150 words expressing your feelings oh the same.
Answer:
March 23, 20XX,
Home
Friday, 10:30 p.m.
Assaults against women, especially the young ones, have become the norm of the day. First, Jessica Lai and then scores of others have become the target of the brutality of twisted minds. Cases of rapes, dowry deaths, eve-teasing, abductions, burning of bodies keep increasing by the day. There is hardly any field where women are not abused or exploited. Girls are viewed as liabilities and boys as assets and insurance for the parents' old age.
The youth has to bring in the change. The steps taken by the masses, especially the university students are a wake-up call in the right direction. Where authorities fail, public protests of this kind will go a long way in doing justice to all the victims and pressurise the judicial system to book the culprits.
Signed
Question 6.
You recently participated in the All India CBSE National Quiz Competition and reached the finals. The final round was telecast over the national channel where you and your team won the quiz. Describe your feelings in 100-150 words through a diary entry.
Answer:
Wednesday, May 11, 20XX
Home, 10:30 p.m.
We were excited as our team was among the four finalists at the All India CBSE National Quiz Competition, 20XX. This was an eagerly awaited moment because the final round was being telecast live on the national channel. Truly it was a juncture when we would have to test our worth, even as we strengthened our scores. The start was uneventful and pallid, but in the 'superfast' round, our luck, and presence of mind, helps us come up with the right answers in record time. With faces beaming in jubilation we walked up to receive the trophy as the blinding lights of cameras flashed around. The event became the most-visited programme of the year, as there were numerous telecasts of our moment of triumph.
Signed
Question 7.
You recently attended a wedding. The ostentatious display of wealth made you reflect on the disparity existing in society. Make a diary entry in 100-150 words expressing your feelings.
Answer:
Thursday, May 13, 20XX
Home, 11:00 p.m.
The city's glitterati were in attendance as the bridegroom descended on the wedding grounds from a helicopter. The bride, accompanied by brothers and cousins, arrived on a bejeweled carpet to garland her Prince Charming. A procession of horses and camels lined the route. The gentlemen sported liveried regalia while ladies shimmered in diamonds. In contrast, the basti beyond was plunged in darkness, its half-clad residents squatting on charpoys pilled out to gape at the proceedings next door.
This was a crass and heart-rending image of disparity that made me even more resolute to do my bit for the less fortunate, taking from those with plenty to satisfy those that lack even the bare necessities. Yes, I'd work to reduce this stark difference in lifestyles. I would want to bridge the gap between the 'haves' and 'have nots'. I would want to return it to the society by helping these downtrodden and underprivileged people.
Signed
Question 8.
You won the Best Student Award this year. Make a diary entry in 100-150 words expressing your feelings. You can take help from the given hints.
Hints: Best Student Award for excellence in studies as well as achievement in co-curricular activities. Joy knows no bounds —parents have promised a scooter/bicycle. Friends and teachers appreciate—a proud moment.
Answer:
February 12, 20XX,
Thursday
School, 11:15 P.m.
The School Assembly held to announce the winner of the Best Student Award, felt uneventful as I felt I was a non-contender. My lethargic half-hearted attention was rudely shaken awake when some classmates simply picked me up on their shoulders and raced to the podium. When the news sank in, I saw rings before my eye%. I mumbled a quick 'Thank you sir', as the Principal shook hands with me.
A surge of happiness surged in when I saw the gear-fitted racing bike on the doorstep of our flat. I hugged my parents, strapped on the helmet and was off to the nearby velodrome for my first cycle racing lesson. How can I ever forget this memorable day of my life! The moment of pride, smiles on my parents' faces will always remain etched in my mind. I have now been chosen as the Head Boy of my school and I want to be an inspiration to all the junior students.
Signed
Question 9.
A group of fifteen students from your class recently wept to Rashtrapati Bhavan to meet the President. Write your joyous experience through a diary entry in 100-150 words.
Answer:
Saturday, January 26, 20XX
Home, 11:05 p.m.
As a team member of the special invitees honoured with India's Bravery Award, the high point of our felicitations included a visit to Rashtrapati Bhavan and an audience with the President of India. As soon as we entered the premises, I was struck by the imperial and awe-inspiring facade of the building and its plush interiors. The President congratulated us. We then posed for a group photo with the dignitary and thereafter gorged ourselves on the delicious spread of eats.
Finally, I walked up to the President and requested him for his autograph. The evening ended with a guided tour of the Mughal Gardens, making the visit a memorable and enriching experience to be savoured for the rest of my life. That moment of honour to be with the President of India, the ever beautiful Mughal Gardens — the whole experience has changed me for the better as a person!
Signed
Question 10.
You recently lost an expensive wristwatch belonging to your grandfather. You are now feeling afraid to confess. Express your feelings of anguish through a diary entry in 100-150 words.
Answer:
Wednesday, June 20, 20XX
Home, 8:30 p.m.
Losing and forgetting things is a constant problem with me. Earlier it was my own things that I lost. Last week to my dismay, I lost my grandfather's gold watch that I was taking to the market for servicing. As soon as I discovered the loss, I went back to the spot and scoured the area several times. I even made enquiries, but to no avail. I cannot repay the loss because it is of vintage make.
Grandfather will ask about his watch soon enough and I don't know what I should tell him. I am in a dilemma whether to tell him the truth or not. Oh, how I curse myself for being so careless! As a last resort, I have decided to make a clean breast of it to my father. He can then lodge an FIR.
Signed
Question 11.
Your sister and you decided to give your mother a day off from the kitchen on her birthday. Write a diary entry in 100-150 words on how you managed to run the kitchen without your mother's assistance. >
Answer:
Sunday, January 27, 20XX
Home, 11:45 p.m.
For mother's birthday, my sister Rina and I offered to take over the kitchen chores. For breakfast Rina suggested parathas, but I vetoed the idea as there was no readymade dough in the fridge. As Rina complained of smarting eyes from cutting onions, we served dal and curd for lunch. During lunch Rina suggested we bake a cake and I went shopping as finding ingredients in mother's cupboard appeared daunting.
While Rina read out the instructions, I stirred and mixed and spooned the mixture onto the baking bowl. The cake came off second-rate but mother praised our efforts till her eyes felt moist. She was very appreciative of the fact that we had been so thoughtful to have given her a day off from the kitchen. By dinnertime we were too tired to do more, so father took us out for a meal.
Signed
Question 12.
You went for a heritage walk to a ruined ancient monument. The place was neglected and encroached upon. Write a description in the diary in 100-150.words of what you saw and what you imagine the place would have been like, in its heydays.
Answer:
Monday, February 2, 20XX
Home, 10:30 p.m.
I joined a group of twenty students, on a heritage walk to the ruins of Chirag-i-Dilli. I was shocked to see how the place had been 'modernised'. The old frescoes on the walls were completely hidden. Multi-storied buildings stood where once existed a garden. The ancient majlis khana or meeting room had been converted into a residence by squatters. We learned from the caretaker that once there were gateways all around but all what remains of it are a few mounds of small-sized bricks known as Lahori bricks. I imagined how beautiful and inviting the place must have been for weary travellers of yore.
I am contemplating with the idea of contacting the ASI as this particular heritage site requires to get back its old-world charm. How they will do it is their job but I am determined to protect our heritage at all costs!
Signed
Question 13.
During the final examinations, you prepared for an English test, on the day when it was a Mathematics test. You realised your mistake when you were inside the Examination Hall. Narrate your experience in 100-150 words and how you overcame the situation.
Answer:
Tuesday, March 15, 20XX
Home, 11:00 p.m.
I broke into a cold sweat. It was the Mathematics paper whereas I had come prepared for an English test! Bewildered and panicky, I asked permission to leave, but that was permitted half an hour later. I decided to read the paper, to while away my time. On a second reading, things looked clearer and before long, I had tackled most of the paper. After some time, I revised my work to make sure that what I had answered was correct.
As there was still time, I attempted the next question and found it solvable and in this way, the entire paper was completed. Regularity with my lessons had paid dividends, even when things had gone drastically askew. Today, when I think about it, I get goosebumps even now. That I could have got mixed up with my subject is beyond my comprehension.
Signed
Question 14.
You are Chuck Hooper. You could not control your emotions when you received the promotion order and broke down. Write a diary entry in about 100-150 words paying tribute to Duke. [CBSE 2016]
Answer:
Tuesday, March 15, 20XX
9:30 p.m., Home
Paying Tribute to Duke
For two long decades, I worked as a peon in the office of hon'ble Duke of Edinburgh. Only yesterday I received a promotion as a senior assistant to the principal secretary, John Munroe, and my joys knew no bounds. To my surprise, it is really a great boon in my life. I have recorded all my joys, achievements, and failures in my diary Flute.
'Flute' is my great hope and lifelong companion. Hence, on this great day of my promotion, I would like to send my diary 'Flute' to hon'ble Duke a tribute which receives plaudits from all quarters. But, at the same time, I also know that the hon'ble Duke would not read my diary as it is a very personal document. I wish I could share it with him!
Signed