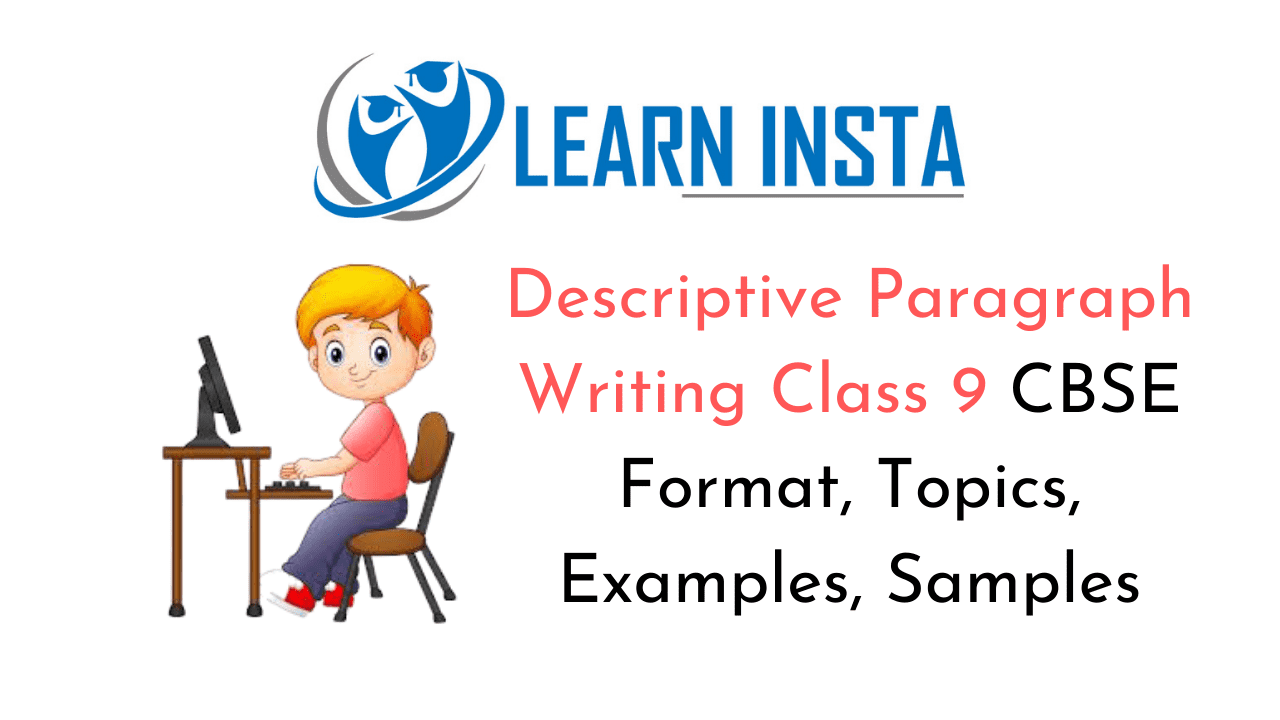 This grammar section explains English Grammar in a clear and simple way. There are example sentences to show how the language is used. You can also visit the most accurate and elaborate NCERT Solutions for Class 9 English. Every question of the textbook has been answered here.
Descriptive Paragraph Writing for Class 9 CBSE Format, Topics, Examples, Samples Pdf
PERSONS
Description of People is a biographical sketch of their lives from birth to the present time, highlighting major events and achievements during that span. In short it entails a person's characteristics and events related to his life and their effects on his life.
Descriptive Paragraph Writing Solved Examples With Answers for Class 9 CBSE
Question 1.
You love your father very much, for he is an ideal father. Describe him in your own words in 100-150 words.
Answer:
Mr Raj Gupta is my father. He is a very polite and caring person. He loves me very much. Although he is a very busy person, yet he pays full attention to me and helps my mother in household chores. He is an ideal father to me. Once I fell seriously ill. It took four days and five nights to recover. All those days he took leave from his office and did not sleep the whole night while he sat beside me.
When I recovered, he took a sigh of relief. He is a true friend and counsellor to me. Without him I am lost. I pray to God to make him happy throughout the life.
Question 2.
One of your friends, Raman, is very gentle and polite to you. You regard him as your best friend. Describe him in 100-150 words.
Answer:
I have many friends. Of them, Raman is my best friend. He is the friend I have always longed for. We are also classmates. He always stood by me in support during misfortunes. He is also a healthy critic as his criticism always helps me improve my behaviour and personality. Being a topper in the class, he also helps me in my studies. To conclude, he has been a boon to me. In the evening, he comes to me. We do homework together. Then we go to the park for playing and workout. Whenever I am wrong he explains to me my mistakes and tells me what to do next? I pray to God to bless upon our company forever.
Question 3.
Describe your favourite dancer in 100-150 words.
Answer:
I have come across many dancers in my life and fond of most but Madhuri Dixit is my favourite.
She is an Indian actor. She has been praised by critics for her dancing skills. When she dances, her movements sway the air. I have watched alf her movies in which she gave superb dancing performances. She speaks very well through her dance postures. It seems that she has dance in her DNA. She dances collectively but if we go into deep we will discover that every part of her body is dancing individually. In 2008, she was awarded the Padma Shri by the Government of India.
Question 4.
Last summer vacation you went to your friend's village. His grandmother looked after you as if you were her grandchild. Describe her in 100-150 words.
Answer:
In every summer vacation, I visit some hill station, but last time I visited my friend's grandmother's village on her repeated invitations. She gave me a warm welcome. First of all, we took a bath in the river and rested under the dense trees. She cared a lot, especially for me as I was her guest. Her sweet nature and soft speaking really impressed me.
The breakfast, lunch and dinner prepared by her were not only tasty but full of love. She took care of my every small need. I felt as if I were in grandmother's paradise. She also showed many photographs from her album. She also told me that she was a champion in swimming. She won many gold medals in swimming competition. She showed me all the prizes she had achieved in her life. I was very excited.
Question 5.
The traits of a musician are given in the box overleaf. Use these and write a short biography in about 100 -150 words. You may collect more information from the Internet, books in the library and other sources.
A. R. Rahman: Indian composer, singer, songwriter, music producer, musician and philanthropist; born.in Chennai on 6 January 1967; graduated from Trinity College, Oxford University; famous in integrating Indian classical music with electronic music, world music and traditional orchestral arrangements; recipient of the Padmashri and the Padma Vibhushan awards; two Oscars and a Golden Globe; a notable humanitarian and philanthropist; donates and raises money for a number of causes and charities.
Answer:
A.R. Rahman (Allah Rakha Rahman) is an Indian composer, singer, songwriter, music producer, musician and philanthropist who was born in Chennai on 6 January 1967. Rahman was earlier known as A.S. Dileep Kumar before he converted from Hinduism to Islam. He is a graduate from Trinity college, Oxford Univeristy. His extensive body of work for film and stage earned him the nickname of 'the Mozart of Madras'. He first debuted with the movie 'Roja'.
He is famous in integrating Indian classical music with electronic music, world music and traditional orchestral arrangements. He is the recipient of the Padmashri and the Padma Vibhushan awards. He has won two Oscars and a golden globe too. He is a notable humanitarian and philanthropist. He does a lot of charity work too; he donates and raises money for a number of causes and charities. Men like him are hard to find.
Question 6.
One day you were commuting in a DTC bus. Unfortunately, your wallet was left at home. The conductor gave you the ticket for free. You are moved by his gesture. Describe him in 100-150 words.
Answer:
One day I was commuting on a DTC bus. Unfortunately, my wallet was left at home. I had no money to buy the ticket and it was useless to plead before the conductor. Every moment was adding to my anxiety, lest I should be caught by the ticket checker and further consequences. The conductor asked me to take the ticket but after knowing the truth he offered me the ticket. I looked at him as if I was asking the reason and he just smiled.
The conductor was a conscientious and kind-hearted person. He understood my problem and so did not fine. I deboarded the bus thanking him from the deep of my heart. I was moved by the behaviour of the conductor and it had been an unforgettable experience of my life.
Question 7.
Write a short descriptive paragraph on the famous Indian scientist Sir CV Raman in 100-150 words on the basis of the following inputs.
Born on 7 November 1888 in Madras—Physician by profession—worked in the field of light scattering—the discovery is known as 'Raman Effect'—won Nobel Prize in 1930 for his discovery—elected 'Fellow of the Royal Society' in 1924—in 1954 India honoured him with its height civilian award 'Bharat Ratna'—breathed his last on 21 November 1970.
Answer:
Sir Chandrasekhara Venkata Raman born on 7 November 1888, in the former Madras Province of India (presently Tamil Nadu) was an Indian physician who carried out ground-breaking work in the field of light scattering. He discovered that when light traverses a transparent material. Some of the deflected light changes wavelength. This phenomena of "Raman effect" earned him the 1930 Nobel Prize for Physics.
Raman was honoured with a large number of honorary doctorates and memberships of scientific societies. He was elected a Fellow of the Royal Society early in his career in 1924 and knighted in 1929. He later resigned from the fellowship in 1968 for reasons unrecorded, the only Indian FRS ever to do so.
In 1954, India honoured him with its highest civilian award, the Bharat Ratna and celebrates National Science Day on 28 February of every' year to commemorate the discovery of the Raman effect in 1928. Raman breathed his last on 21 November 1970.
Question 8.
Look at the following points and develop them into a descriptive paragraph.
Name : Dr. Kiran Mazumdar Shaw
Parents : Gujarati
Father Rasendra Mazumdar, formely head Brewmaster at United Breweries
Father Mazumdar suggestion study fermentation science
Education : Schooling from Bishop's Cotton Girls' High School Bachelor's degree in Zoology from Bangalore University Went to the Federation University (Australia) to study Malting and Brewing (1974) Aspired to medicine but could not
Chairperson and Managing Director : Biocon Ltd
Chairperson : IIM Bengalure
Recognition : Honoured with numerous national and international awards
Special achievement : Listing in the Forbes Magazine as most powerful woman in the world at 77th and 71st position in 2016 and 2017 respectively.
Answer:
Kiran Mazumdar Shaw is an Indian billionare entrepreneur and also the chairperson and managing director of Biocon United (a Biotechnology company) and is also the chairperson of IIM Bengaluru. Born to Gujarati parents in Bengaluru. She did her schooling from Bishop's Cotton Girls' High School and graduated with a bachelor's degree in zoology from Bangalore University. She hoped to go to a medical school but did not obtain a scholarship.
Her father, Rasendra Mazumdar was the head brewmaster at United Breweries. He suggested her to pursue a course in fermentation science to be trained as a brewmaster which was a very non-traditional course for a woman. Mazumdar went to the Federation University in Australia to study Malting and Brewing in 1974, the only woman enrolled in the brewing course and earned the Master's degree in brewery in 1975.
She joined the Biocon Company as a trainee manager for a brief period at Cork Ireland and then returned to India to start her own business. And the rest is history. She has won several national and international awards and honours today. She has been listed by Forbes as one of the most. powerful women in the world at 77th and 71st positions in 2016 and 2017 respectively.
PLACE
While describing a place there are some important steps :
Break the description into 2-3 paragraphs.
Each paragraph should have a topic sentence.
Describe one aspect of the place in each paragraph.
It is important to ensure continuity in paragraphs.
If the description has to be written in one paragraph, then include all the details briefly.
Solved Question
Question 1.
You happen to visit Bhallard in the foothills of Kumaon. You collected details about this place. Write a descriptive paragraph on the basis of the following inputs in 100-150 words.
You Head To Bhallard, In The Kumaon Foothills
Fact File
Nearest Airport : New Delhi
Nearest Railway Station : Kathgodam (KKDM). Tickets are always in demand and need to be booked well in advance. By
Road : From Delhi, NH 24 to Moradabad and Rampur and NH 87 to Kathgodam; via Bhimtal to Ramgarh and from there to Nathuakhan via Talla (lower) Ramgarh; From Nathuakhan, 4 km on the road towards Hartola is Bhallard village.
Facilities : Tourist attractions abound in several places : Nainital, Bhimtal, Sattal, Ramgarh, Almora. A few home-stay options are available and need to be "identified".
Attractions : Natural beauty is witnessed in its abundance in this region. Lakes with boating facilities abound : for example Nainital, Bhimtal and Sattal. The Kumaon hills are wonderful for trekkers, bird watchers, nature enthusiasts and many an unspoilt hill-path beckons you. Orchards and fruit-laden trees abound in the Nathuakhan/Bhallard area.
Aah ! Himalaya home-stay : The Aah ! Himalaya home-stay package (including breakfast, lunch, dinner and laundry) costs ?4,000/- for a couple per night. Up to two children (under 12) go free; children, older than 12 are charged a supplementary fee of ?500 per night. Single home-stays are charged at ?2500 per night, Home-Stays are always pre-arranged with the owner!
Answer:
Ballard in Kumaon district is a place where nature's beauty can be captured. It is close to Kathgodam railway station. The nearest airport is Delhi. From h§re one can either take a train or go by road. There are many interesting places to stay there including home-stay options at Almora. Nature's pristine beauty can be seen here. In Nainital, Bhimtal and Sattal boating facilities are available. The Kumaon hills are a wonderful place for bird watchers, nature lovers and trekkers. One can see fruit-laden trees in Ballard. Aah! Home-stay option charge? 4,000/- night per couple with 2 children below 12 free.
Question 2.
You recently visited the city of Jaipur, famous for its Hawa Mahal, the palace and forts. Shopping in Jaipur is also exciting as there are many things to buy. Write a description of the place in 100-150 words.
Answer:
Jaipur, also referred to as the Pink City. The Hawa Mahal here is made of Pink stone. It is the capital of Rajasthan. It is a colourful city with monuments, good food and lots of shopping. By road from Delhi it is about 4 hours drive. By air just about 45 minutes from Delhi. It is a hot place and the best time to visit is December to February. The rest of the months it will be hot. The palaces constructed by erstwhile kings are marvels of architecture. If one has to see all the monuments it will take no less than 3 days.
Apart from forts, shopping in Jaipur is exciting. Things are reasonably priced, marble carvings and objects made out of stone are famous in Jaipur. The typical Rajasthani cuisine is elaborate and is served with lot of butter and ghee. Some of the dishes are dal, bhatti churma, kachori, etc. The art of tie and dye is very famous in Rajasthan. Fabric, dress material and sarees on which this technique is used are liked by women.
Question 3.
Srinagar with its Dal lake, the snow clad mountain peaks and the Shalimar garden is nothing but a paradise on the earth. You visited this beautiful city sometime back. Write an account of the place in 100-150 words.
Answer:
Kashmir is the paradise on the earth. It is a beautiful place, so scenic with snow clad mountains, beautiful lakes, flowers and fruits all around. Srinagar, the capital of Kashmir, is connected by air with all major metros of India. There is no train facility at Kashmir. The nearest railway station is Katra or Jammu. There are many hotels where one can stay.
In the Dal lake there are houseboats called as Shikaras in which one can stay. Words cannot describe the beauty of this place. One can see apple trees laden with apples. Other main trees are Deodar, Firs and Pines, Chenar, Maple, Birch and Walnut. One should visit Srinagar at least once during one's lifetime.
Question 4.
Write a paragraph describing a journey, imaginery, or you have undertaken. You can follow the steps given below:
Prepare an itinerary.
You can make use of the following expressions, phrases and proverbs frequently used by the travellers.
Jetlag, itchy feet, hit the road, time table, on the home stretch, call it a day, book in advance, travel over, travel through, travel light, any port in a storm, stopover, etc.
Answer:
We decided to go to Thailand last month. I was too excited to think of what it would be like. We booked the tickets and when the time came, packed our things. When we landed at Thailand airport after a journey of about five hours, I had jet legs but soon forgot it seeing the beauty all around. We checked in the hotel and rested for some time. It was a wonderful day and we enjoyed coconut milk. We hired bikes and toured half of the island relishing the local life that was so lively and full of activity.
On our way, we tasted delicacies of the local cuisine. Mostly it was spicy food. We visited tropical jungles and witness the beauty and splendour of nature. We were overwhelmed by the serenity and beauty of the place. Soon the time to go back arrived. It was a sad feeling to think of leaving this extraordinary calmness. It was the best journey of my life.
Question 5.
The city of Delhi, capital of India, is a wonderful amalgamation of tradition and modernity. With places like Red Fort and Jama Masjid on one hand, India Gate and Rashtrapati Bhavan on the other hand, it is a city worth visiting. You happened to go around the city last month. Write a description of the city in 100-150 words.
Answer:
Delhi, the capital city of India, is a wonderful amalgamation of tradition and modernity. There are many places to visit in this city. It is the most well-connected city in this country. There is a variety of hotels and guest houses where people who visit this city can stay. If one wishes to visit all the places in this city then one has to stay here for at least 3-4 days. There is Red fort, Jama Masjid, Kutub Minar, India Gate and many other places to visit and see. There is shopping to do in Chandni Chowk, Karol Bagh and Connaught Place.
One can a feel and see the beautiful blend of the old and the new in this city.
Question 6.
Write a descriptive paragraph on the following inputs in 100-150 words. ,
FACT FILE
Nearest airport is at Jabalpur (165 km)
Nearest town and railwayhead is Umaria (30 km). The other railway stations are Jabalpur (165 km), Katni (102 km) and Satna (120 km).
There are varied government and private options for accommodation in Tala village that adjoins the park.
The park is open to visitors from October to June. But the best season for viewing wildlife is November to April.
Getting around : Maruti Gypsys are used to explore the park. The reservation of these can be done at the Project Tiger office or the hotels where one is staying. The tour is conducted by a guide and in the park one must adhere to the allocated route.
The Bandhavgarh National Park is set amongst the Vindhya Hills and is in the district of Shadol in Madhya Pradesh. It was declared a national park in 1968 and today covers an area of 437 sq. km. The park derives its name from the most prominent hill fort of the area, which is (mythologically) said to have been given by Lord Rama to his brother Laxman to keep a watch on Lanka (Bandhav = Brother, Garh = Fort).
Answer:
Bandhavgarh National Park is situated in the state Of Madhya Pradesh. The nearest airport is Jabalpur. It is in the Vindhya Hills, in the district'of Shadol in MP. In the year 1968 it was declared as a National Park. This park has a large biodiversity. The park has a large breeding population of leopards and various species of deer. It is declared as the Bandhavgarh Tiger Reserve in 1993. It covers an area of 694 sq. km.
The best time to visit this place to enjoy the wildlife is November to April. There is a variety of accommodation available including Govt, guest houses and private hotels. Maruti Gypsies are used to go around the park. One can book these in advance either from the Project Tiger Office or from the hotel where one is staying.
Question 7.
You recently visited the Children's Park, a favourite place for all children, in your city. Write a description of the Park in 100-150 words.
Answer:
Children's Park is the place all children love to go. The park in our city of Delhi is huge. There are about 4 play areas with different types of playthings. The area for small children has swings, see-saw and slides. Then there is a ground where children can play games like badminton, volleyball etc. There is a football court as well. Facing the India Gate is a Tennis court.
Apart form all these there are green areas for parents to play with their children. Families come here for outdoor activities and enjoy picnics especially during winters. There is a provision for cooking as well. There are many trees. As a result during summers, this park remains cool in the day. A park, which, all children should definitely visit.
EVENT
Any description of an event should include factual details. While writing about an event the following points should be kept in mind.
As the event is being described after its completion, one has to use past tense.
All the facts about the event have to be included while writing the description.
It is always better not to include personal opinion or comment while describing an event.
Solved Question
Question 1.
You recently participated in a 'Robot Making' event in your school. Participants from as many as 30 schools in the city took part in the event. Write about the event in 100-150 words describing how many robots were made and who was awarded the best prize, etc.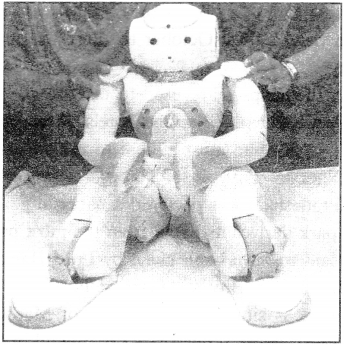 Answer:
Our school organised a Robot Making Competition in which as many as 30 students from 30 schools of the city participated. As a member of the Robotic Club I represented my school in this activity. All the students were given the basic tools and units. All the groups were given 2 hours for assembling the robot together. Our group consisted of 4 of us, all members of the Robotic Club. We put together Harsh, a robot, which could play the music, do basic activities such as making bed, and washing vessels. One of the participating schools had made a running robot which could take part in running races. This robot was adjudged the best by the judges. Our robot got the second prize. The Chief Guest for the event was a Professor of Robotics from the University of Technology in the city.
Question 2.
You recently witnessed the World Cup India-South Africa Cricket match that was played in the city of Nagpur. Start to finish it was a nail-biting match. Describe it in 100-150 words.
Answer:
World Cup matches make the Indian public euphoria. Witnessing a match offers a two-fold advantage. One is witnessing the match and the other is seeing the public go mad. I got an opportunity to see the India-South Africa match that was played at Nagpur. I had flown specially from Mumbai to see the match. The stadium was packed to capacity; there was not an inch of space. Each ball bowled by the Indian bowlers and each run scored by the Indians made people hoot, shout, clap and wave the Indian flag.
Master blaster Sachin Tendulkar scored 111 runs. It was an electrifying performance. Watching it was sheer fun. Bowling of Zaheer Khan was also good.
Question 3.
The International Women's Day was celebrated in all parts of the world with great gusto. As part of the celebrations, women achievers were given awards by the Rotary Club of your city. Among those honoured included the famous Police Officer Kiran Bedi, Sharmila Tagore and Shabana Azmi. Write a short description of this event in 100-150 words.
Answer:
March 8th is celebrated every year as International Women's day. The reason we celebrate this day is to honour women and to recognise their contribution to the. family, society and nation.
Rotary Club of our city organized a celebration to honour some women achievers. Those honoured included Kiran Bedi, the Magsaysay award winner, Sharmila Tagore, the Chairperson of the Censor Board and Shabana Azmi, a woman activist and a great actor.
Ms Bedi exhorted the young girls to repel any untoward advances to them. She further said that the whole state machinery is with them. Ms Tagore asked the girls to study hard, because it is education that will give them confidence. Ms Azmi advised the ladies to come forward and join the mainstream of the society.
All these women pledged to work for the upliftment of women of this country.
Question 4.
Your school celebrated Sports Day on 20th February. The famous cricketer Suresh Raina was the Chief Guest for the occasion. Write a description about the event in 100-150 words.
Answer:
Our school celebrated the Sports Day on 20th February. The famous cricketer Suresh Raina was the Chief Guest on the occasion. He spoke about the dedication and hard work is the cornerstone for any success. He encouraged the youngsters to make any sport a part of their lifestyle as playing a game develops many qualities like team spirit in individuals. Tagore House took the running trophy for scoring highest points in the all the sports activities. The day started with March Past and ended with the houses marching back and lowering the their flags.
Question 5.
You recently attended a seminar on 'How to Achieve Success'. Using the clues given below describe the event in 100-150 words.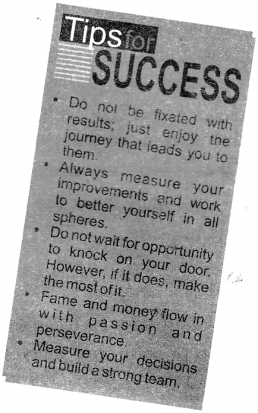 Answer:
A seminar on 'How to Achieve Success' was held in our school on Monday. It was attended by as many as 600 people from various walks of life. Speaker after speaker gave some valuable tips, which if implemented, can help us achieve success. The participants defined success. Success was not something to be compared with others but it has to be looked at as improving our own performance as compared with the previous one. It is a journey and not an end in itself. If we start enjoying the journey success will follow.
Today is the age of team building. One must work with colleagues as a team and move towards the larger goal. The success of the team means the success of the organisation, that means an individual's success. That is the way to look at it, that is the way to approach it. I came out better equipped to handle day to day situations after attending the seminar.
Question 6.
'Career Fair' was organised this year as well in your school. As many as 30 Institutes had put up their stalls. Some of the participants included NIFT, NID, IIPM, and Computer Academy, etc. The school had invited career counsellors as well. Write a description of the event in 100-150 words.
Answer:
Career Fair is an annual feature in our school. This event provides a platform for students upward of class-9 to meet career experts from various fields to know about the options available to them. Experts from medical, engineering, fashion, design, architecture and many other fields were invited. Also .career guidance was provided by counsellors such as Mr. Chawla, Ms. Prema.
Bookstalls and eatables were other attractions. The event was open to parents as well. Parents got to interact with experts and collect information regarding various options. The fair was open to students of classes 9-12.