We have decided to create the most comprehensive English Summary that will help students with learning and understanding.
The Thief's Story Summary in English by Ruskin Bond
The Thief's Story by Ruskin Bond About the Author
| | |
| --- | --- |
| Author Name | Ruskin Bond |
| Born | 19 May 1934 (age 86 years), Kasauli |
| Education | Bishop Cotton School shimla (1950) |
| Awards | Padma Shri, Padma Bhushan |
| Movies | 7 Khoon Maaf, The Blue Umbrella, The Black Cat, Junoon, Ek Tha Rusty II |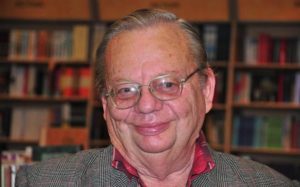 The Thief's Story Summary in English
Anil, a young man of 25, was a writer. He earned his living by writing books or articles for various magazines. He was a large-hearted and simple man. Once, when he was watching a wrestling match, a young boy named Hari Singh approached him and expressed his desire to serve him. He said that he would cook for him. Anil believed him and gave him the job. Hari Singh was an expert thief and used to change his name and place to avoid the police and his old employers. He used to make money while buying supplies for him.
One day, he got a chance to steal Anil's money, from under the mattress. He ran away to go to another place by train. But at the park, his inner voice made him restless. He did not want to cheat a large-hearted and simple man like Anil, who had trusted him. He also wanted Anil to teach him to write simple sentences. He immediately came back to Anil's house and placed the money as it was.
Next morning, Anil gave him fifty rupees and told him that he would pay him regularly. Anil forgave him as he wanted to give him another chance to improve.
The Thief's Story Summary Questions and Answers
Question 1.
How did the thief (Hari Singh) realise that Anil knew that his money had been stolen?
Answer:
The thief realised that Anil knew he had stolen his money because he found some of the notes still wet, as if they were taken out in the rain. He gave a fifty-rupee-note to Hari Singh the next morning, and he promised to give him more money, though he did not have any contract for giving any money.
Question 2.
How did Hari Singh know that Anil had forgiven him?
Answer:
Hari Singh realised that Anil knew about the theft because he found some of the notes still wet. He gave him a fifty-rupee-note and did not mention anything about the theft. This made him feel that Anil had forgiven him.
Question 3.
Who is 'I' in this story? Why did he change his name every month?
Answer:
'I' in this story is a 15 year old boy who is an experienced and successful thief. He changes his name every month to hide his real identity from his new employer and the police.
Question 4.
Why, according to Hari Singh, is it easier to rob a greedy man than a careless person like Anil?
Answer:
Hari Singh has correlated theft with the sense of satisfaction, a thief gets pleasure when a person comes to know that he has been robbed. Hari Singh says that a greedy man can afford to be robbed too whereas a careless man at times may never come to know that he has lost something or he has been robbed. This carelessness, on the part of a person robbed, deprives a thief of the pleasure which he gets out of theft.
Question 5.
What was the thief s immediate reaction when he stole Anil's money?
Answer:
Hari Singh stole six hundred rupees and crawled out of the room. When he was on the road, he started running. He kept the notes in his waist held there by the string of his pyjama. He felt as if he was an oil rich Arab for a week or two.
Question 6.
What made the thief come back to Anil?
Answer:
Hari Singh came back to Anil because Anil trusted him. He did not want to miss the chance of being educated. Education could certainly make him a better man. He was fed up with the life of a thief, i. e. stealing and being caught and beaten.
Question 7.
What was Anil's job? What did he usually do with the money he earned?
Answer:
Anil was a writer. He used to write articles for magazines. He was a spendthrift and used to spend money on his friends. He did not bother to save money for his future.
Question 8.
What does the thief say about the reactions of different types of people when they were robbed? How did he think Anil would react when he discovered the theft?
Answer:
The thief had robbed all kinds of people. According to him, the greedy men were scared of being robbed. The rich men showed anger. The poor men accepted their fate after being robbed. He thought that Anil would show only a touch of sadness. He would not be sad for the loss of money, but for the loss of trust.
Question 9.
What made him a successful thief?
Answer:
He always changed his name after stealing. He even managed to change the place. He tried his best to appear pleasing and innocent so the employers never suspected him to be a thief.
Question 10.
Why was he about to be dismissed? What made Anil reinstate him?
Answer:
He cooked very terrible meal which infuriated Anil. He gave the food to the stray dog and asked him to be off. But he got his job back by flattering Anil who was a simple and large-hearted man.