We have decided to create the most comprehensive English Summary that will help students with learning and understanding.
The Necklace Summary in English by Guy De Maupassant
The Necklace by Guy De Maupassant About the Author
| | |
| --- | --- |
| Author Name | Guy De Maupassant |
| Born | 5 August 1850, Château de Miromesnil, Tourville-sur-Arques, France |
| Died | 6 July 1893, Passy, Paris, France |
| Short stories | The Necklace, Boule de Suif, The Horla, Two Friends |
| Movies | Bel Ami, Masculin Féminin, A Woman's Life |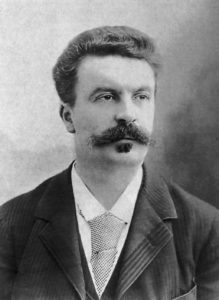 The Necklace Summary in English
'Matilda, the pretty young lady, was born in a family of clerks. She was married to a petty clerk in the office of the Board of Education. She felt that she was born for luxuries but she was suffering from poverty. This made her constantly unhappy and complaining. She wanted to have elegant dinners in shining silver, and to wear frocks and nice jewellery.
One day her husband Loisel got an invitation to a dance party from the Minister of Public Instruction for both of them. Monsieur Loisel was elated to receive it, but Matilda, his wife, was irritated and threw down the invitation card. Tears rolled down her cheeks. Her husband kept inquiring. Finally, she said that she did not have a proper dress or jewellery. She did not want to be singled out amidst the elite gathering.
Finally, after a lot of thinking, her husband gave her the money to buy a new dress for her. This money had been kept by him for buying a gun. The dress got ready, but Matilda was still not happy, because she did not have the jewels to go with it. She did not take to the idea of wearing natural flowers. Finally, her husband in desperation suggested that che should go to Mme Forestier, her friend and borrow some of her jewellery.
Matilda went to Mme Forestier and borrowed a diamond necklace. Madame Loisel danced at the ball (party) with enthusiasm and happiness. She turned out to be the prettiest of all — elegant, gracious, smiling and full of joy. All the men noticed her, asked her name and wanted to be presented. She went home at 4 a.m. fully satisfied. Her husband was tired and remembered that he had to go to office in the morning.
She removed the wraps from her shoulders before the glass, for a final view of herself jn her glory. Suddenly, she was shocked to see that the necklace was not there around her neck.
Monsieur Loisel and Mme Loisel looked in the folds of the dress and in the pockets. They could not find the necklace. He reported the matter to the police and put an advertisement in the newspapers without any result. They somehow deferred the plan of returning the necklace by a week – by writing to Mme Forestier that the clasp of the necklace had broken. They would get it repaired and return it. At the end of the week, it was not found. They decided to buy a new one.
In a shop of the Palaise-Royal, they found an exact looking necklace valued at forty thousand francs. They could get it for thirty-six thousand francs.
Loisel had only eighteen thousand francs, so he borrowed the rest from usurers and a whole race of lenders. They paid thirty six thousand francs to the shop to buy the necklace. It was soon given to Mme Forestier. The saving spree began. The Loisels sent away the maid, they lived in a rented room in an attic. Mme Loisel did all the household work. Monsieur Loisel also worked overtime to save money. It was a horrible life of necessity they were leading for the next ten years. Mrs. Loisel looked old.
One day Mme Loisel happened to meet Mme Forestier while she was taking a walk. She (Matilda) told her how they had replaced her necklace. They led a miserable life because they had to repay the loan they had taken to buy her diamond necklace which was lost by them. Mme Forestier revealed that her necklace was false and was worth only five hundred francs.
The Necklace Summary Questions and Answers
Question 1.
Why did Matilda not want to see her rich friends?
Answer:
Matilda did not want to see her rich friends because she did not have jewels, nothing to adorn herself with. Besides, she did not have any suitable dress for the party. She thought that without having these valuable things she would have a poverty-stricken look in the midst of rich friends.
Question 2.
What is the role of Mme Forestier in the story 'The Necklace'?
Answer:
Mme Forestier is a rich lady. She is a good friend of Matilda. She agrees to lend her necklace to Matilda to be worn at a party. Her role in the story is very important. Had she not lent her necklace to Matilda, she (Matilda) would not have learnt her lesson in life.
Question 3.
What changes came in the lifestyle of Matilda after she had lost the necklace?
Answer:
After the loss of the necklace, Matilda had to sacrifice all her comforts and even all her needs to get money to buy a new necklace and give it to her friend. Because of overwork, tension and lack of care, she became a physical wreck. Happiness of one night changed her whole life's ways and style.
Question 4.
Describe Mme Loisel's experience at the ball.
Answer:
At the ball Mme Loisel was in the high world. She was looking absolutely beautiful. She was a great success at the ball. She smiled all the time and was full of joy. She was noticed by everyone present there. She danced with pleasure almost the whole night and returned home at four o'clock in the morning.
Question 5.
What were Matilda's apprehensions when her husband brought her the invitation to the ball?
Answer:
When her husband brought an invitation, Matilda had two apprehensions'. Firstly, she didn't have any suitable dress for the party. The second apprehension was that she didn't have any suitable jewel to adorn herself. She thought that she would give a poverty-stricken look.
Question 6.
How did Monsieur Loisel manage to repay the debt and when?
Answer:
In order to repay the debt. Mr. and Mrs. Loisel had to go through several hardships. Mr. Loisel had to work overtime. Mrs. Loisel did away with the maid and did all the household chores herself. The Loisels left their lodgings and lived in a rented room. The Loisels led a very miserable life and repaid the debt in ten years.
Question 7.
Why did Matilda not like to visit her friend Mme. Forestier?
Answer:
Whenever Matilda visited her rich friend, she always felt frustrated and inferior. Her richness and luxuries made her feel more dissatisfied. Her display of clothes and jewels fascinated her.
Question 8.
Why did Matilda's husband go out into the cold night minutes after returning from the ball? Was he successful in his efforts?
Answer:
Monsieur Loisel went out into the cold night minutes after returning from the ball in search of the lost necklace. No, he was not successful in his errand. He could not find the necklace anywhere.
Question 9.
What was the cause of Matilda's ruin? How could she have avoided it?
Answer:
The cause of Matilda's ruin was her constant discontentment with her circumstances. It was her sense of frustration which made her and her husband borrow the necklace for the party which was subsequently lost.
She could have avoided it by firstly, not borrowing the necklace and secondly by telling the truth to Mrs. Forestier.
Question 10.
Why did Jeanne not recognise her friend Matilda?
Answer:
Mme Loisel seemed old and haggard after undergoing a hectic work schedule with a lot of anxiety to pay the debt. Her hair and dress became shabby. Her hands became red, her tone of voice was loud and crude. Therefore, Jeanne could not recognise her.