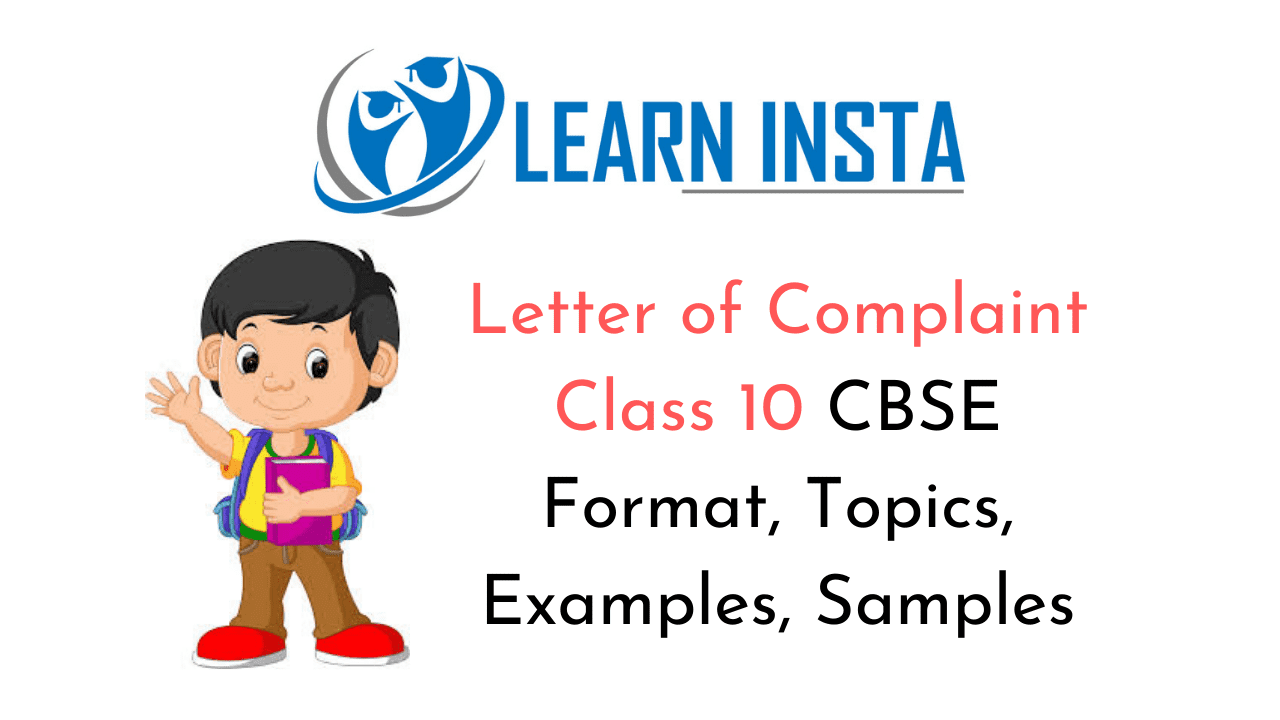 Letter writing is an essential skill. Despite the prevalence of emails and text messages, everyone has to write letters at some point. Letters of complaint, job applications, thank you letters, letters requesting changes or – making suggestions – the list goes on and on. Encouraging children to write letters from an early age will improve their communication, social and handwriting skills, and teach them what they need to know about writing and structuring letters.
This grammar section explains English Grammar in a clear and simple way. There are example sentences to show how the language is used. NCERT Solutions for Class 10 English will help you to write better answers in your Class 10 exams. Because the Solutions are solved by subject matter experts.
Children are expected to learn how to write letters, notes and messages. They have to be aware of different styles of writing, the use of formal and informal letters, and to select style and vocabulary appropriate to the intended reader.
Letter of Complaint Class 10 CBSE Format, Topics, Examples, Samples PDF
Letter Writing (Formal Letters)
Write as you speak. Your letter should be in the nature of a conversation.
Adopt a familiar style for those who are intimate, but write in a formal tone to the strangers.
Use a suitable beginning before you start with the actual letter.
Write what you have to say –– clearly, briefly and precisely.
Be courteous and tactful. Avoid offending.
Avoid boring remarks. Better do away with hackneyed phrases.
Never fail to date your letter.
Write in a simple clear and colloquial language. The style of a letter depends on the nature of its contents. Private letters should be in the conversational style; business letters, short, concise and to the point; and official letters, formal and dignified.
Correct spellings are equally desirable even in the most familiar forms of correspondence. A letter should be legible, straightforward and grammatically correct.
Avoid bad punctuation which is often the cause of obscurity.
Parts of a Letter
A letter consists of the following parts:
1. Sender's Name and Address. It includes the writer's address. It is written at the top on the left hand corner of the page. If the address consists of several parts, each part is given a separate line as follows:
125, Punjabi Basti
Anand Parvat
New Delhi
2. Date. While writing the date, note that the day is written in figures, month in words and year in full figures. The year is preceded by a comma, when the date is written before it. The date should be written as follows:


3. Receiver's Address/The Inside Address. The official letters are not addressed to the individual but to his/her official capacity; as,
The Editor
The Times of India
Bahadurshah Zafar Marg
New Delhi–1100XX
4. Subject. It is a must in official letters. It must be as brief as possible, maximum three or four words. It must be the pivot on the body of the letter.
5. Salutation. It is the complimentary little greetings to the person to whom the letter is addressed. It is a formal way of beginning a letter. The form of greeting or salutation depends on the relation and degree of intimacy between the writer and the addressee in personal letters. But in official letters 'Dear Sir' or 'Dear Madam'is used mostly.
Note. If the person, who will read the letter, is known to you, you can address him by name: as
Dear Mr. Gupta
The appropriate title, Mr, Mrs, or Miss, is to be placed before the name.
Forms of Salutation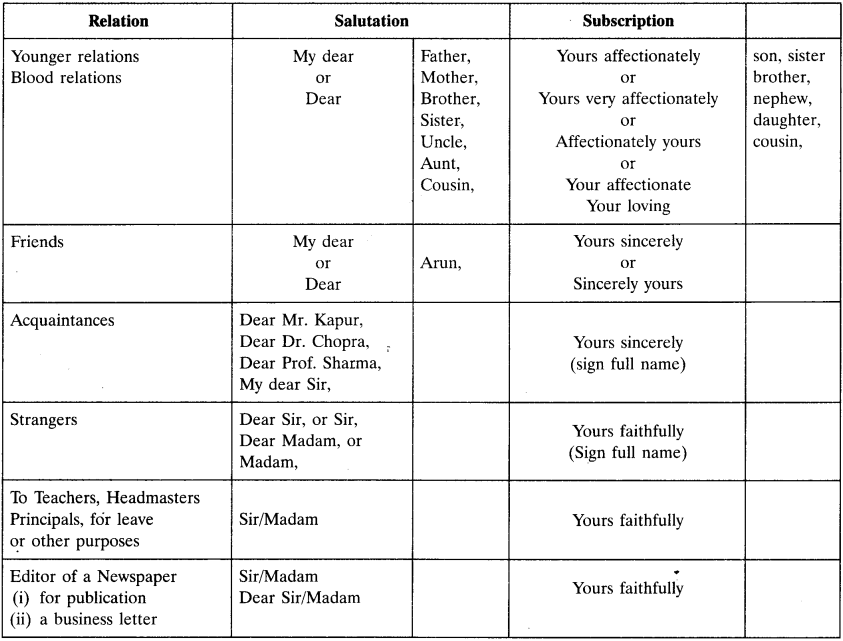 6. Body of the Letter. This is the main part of the letter. It consists of three parts: an introduction which gives the reason for the letter, the message which includes the main information and a conclusion, which is always expressed politely or gives suggestions about the problems expressed. It should be well arranged and divided suitably into separate paragraphs unless it is very short. Be brief, courteous and to the point. It should be clear and brief because an official/a businessman has no time to attend to unnecessary details.
7. The Subscription (or the complimentary close). The most common form in business letters is 'Yours faithfully'. If you have used a personal name in the salutation, the subscription should be 'Yours sincerely'. In case of personal letters, the most common form is 'Yours affectionately.'
8. Signature. The formal letters require your full signature. Below the signature, the name of the person and the position are mentioned. In personal letters write the name by which you are known among your relatives and friends. Note. Do not use any punctuation mark after the signature.
9. Outside Address. This is written on the envelope or the postcard. It should be written neatly, legibly and spaced carefully. If you write the pin code, you can be sure of your letter reaching the addressee without delay.
Format of Formal Letters

………………………………. Sender's
………………………………. address
……………………………….
………………………………. Date
………………………………. Receiver's address
……………………………….
………………………………. Salutation
………………………………. Subject
………………………………………………………………………………………………………………………………………………….. Body
………………………………………………………………………………………………………………………………………………….. of
………………………………………………………………………………………………………………………………………………….. the
………………………………………………………………………………………………………………………………………………….. letter
………………………………. Complimentary close
………………………………. Signature
………………………………. (Name in capitals)
Letter of Complaint Class 10 CBSE
Letters of complaint are written when you have a problem with a product or a thing. The tone of this letter has to be very polite. Take care of the following things while writing these letters.
Describe what is wrong with the product or describe the issues/problems. Give the date of purchase and place of purchase, if applicable.
Explain how you would like to resolve the problem.
Explain that you look forward to receiving a reply with a resolution. Set a date or time limit in which to receive the reply. Give a phone number where you can be reached.
Format:

Address Given
Or
Examination Hall
Date
The Manager
Name of Company/Agency
Address
Dear Sir/Madam
Subject: ………………………………..
Body of letterPara I – Purchased
When?
Where?
What? Model/Brand
Para II – Technical complaints
(at least 3 points)
Para III – Since the ………………………………. (item) is under warranty, so kindly replace it within ………………………………. days. Failing which, I/we will be forced to move to the consumer court.
Yours faithfully
(Name)
Letter of Complaint Writing Topics Solved Examples for Class 10 CBSE
Question 1.
The unsanitary conditions in your colony are causing multiple diseases. Write a letter to the Municipal Commissioner bringing the problem to his notice and request him to take urgent action in the matter. You are Deepak/Deepa of C 2/8, Ankur Enclave, New Delhi.
Answer:
C 2/8, Ankur Enclave
New Delhi
20 August 20XX
The Municipal Commissioner
Shahdara
Delhi 1100XX
Dear Sir
Subject: Insanitary conditions in the colony
I have been a resident of Ankur Enclave for the past eleven years. I would like to bring to your notice the insanitary conditions in our colony. Rubbish and garbage lie in heaps. Lack of drainage system raises a persistent foul smell in the area.
During rainy season water stagnates in pits on the street which makes the whole condition even worse. These become the breeding ground for mosquitoes, which expose the residents to multiple diseases like dengue, malaria, etc. Our colony has become an unhealthy and disease–prone area. Every day, someone or the other is succumbing to deadly diseases. Some of the families have also shifted lock, stock, and barrel to better localities.
You are requested to take an immediate remedial action to set things right.
Thanking you
Yours faithfully
Deepa
Question 2.
You are Rajesh/Rajni Roy of 105 C, Chatterjee Lane, Kolkata. You have received a letter from your brother who is staying in the hostel of Shakti Mandir Public School, Darjeeling, stating that he is being bullied by some senior students who threatened him with dire consequences, if he complained. Write a letter to the Hostel Warden requesting him to take urgent action.
Answer:
105 C, Chatterjee Lane
Kolkata
West Bengal
27 June 20XX
Hostel Warden
Shakti Mandir Public School
Darjeeling
West Bengal
Dear Sir/Madam
Subject: Bullying of a class X student
With due respect, I bring to your notice that my brother, Ashutosh Roy, of class XD, has been staying in dormitory No. 20 for the last 6 months. He has been facing a lot of bullying because of being a 'new bee' in the hostel. As a result, he is going through a lot of stress. He passes sleepless nights and sometimes even takes sleeping tablets. I regret to say that he no longer wants to study in your prestigious institution. He has even been threatened of serious consequences by these bullies if he complains.
I am concerned about my brother's life. I request you to take immediate remedial action before the things get out of hand and force me to withdraw my brother which might bring a bad name to your school.
Yours faithfully
Rajesh Roy
Question 3.
You are Shubham/Subhi Tyagi of 1, Ashok Road, Lucknow. You are deeply concerned about the increasing number of road accidents in your area. You strongly feel that reckless driving by the youngsters is the primary cause of such accidents. Write a letter to the Traffic Police Commissioner requesting him to take prompt and appropriate action. Give concrete suggestions to deal with the problem.
Answer:
1, Ashok Road
Lucknow
11 July 20XX
Traffic Police Commissioner
Lucknow
Dear Sir/Madam
Subject: Increase in the number of road accidents
I would like to draw your attention to the increase in the number of road accidents in our locality.. Reckless and drunken driving by youngsters is the primary cause of such accidents. They are not scared of putting their lives at risk. They ignore the traffic rules because they know that their parents would help them get away with the law. Many of the drivers continue talking on their mobiles throwing caution to the winds, which certainly causes distraction and leads to fatal accidents sometimes.
Another cause of these accidents is rash driving by the truck drivers at night. The truck drivers are mostly dead drunk and do not care a bit about the traffic rules.
I will be grateful if you kindly look into the matter and take stern remedial action.
Yours faithfully
Shubhum Tyagi
Question 4.
You are Raghav/Renu Sharma, President, RWA, C Block, Janak Puri, New Delhi. The main park in your locality which was once a model park lies in a state of utter neglect. It has become a favourite spot for anti–social elements and a permanent resting place for stray animals. Write a letter to the Municipal Commissioner requesting him to instruct the horticulture department to take prompt action and restore the park to its original condition.
Answer:
RWA, C Block, Janak Puri
New Delhi 1100XX
17 August 20XX
The Municipal Commissioner
New Delhi 1100XX
Dear Sir/Madam
Subject: Poor condition of the central park in C Block, Janak Puri
Through this letter I would like to draw your attention to the miserable condition of the central park in C Block area. Once, a model park, it now lies in a state of utter neglect. It has become a favourite spot for anti–social elements and a permanent resting place for stray animals. There is no greenery left in the park. People use this park to gamble and take drugs. There is no place left for children to play and old people to take a walk. The Residents' Welfare Association (RWA) has left no stone unturned to do their bit in improving the condition of the park but all in vain.
These activities are causing a lot of problems to the residents and spoiling the atmosphere of the locality. I request you to take immediate remedial action to restore the beauty of the park.
Yours faithfully
Renu Sharma
Question 5.
You are the Physical Education Instructor at St. Jesus and Mary School, Agra. You had placed an order for sports goods with Student Sports Enterprises. When the items arrived you found that some of them were defective. Write a letter to the Manager, Student Sports Enterprises, asking him to replace the defective items.
Answer:
Physical Education Dept.
St. Jesus and Mary School
Agra XXXXXX
01 March 20XX
The Manager
Student Sports Enterprises
Sadar Bazar,
Agra XXXXXX
Dear Sir
Subject: Replacement of damaged goods
Please refer to our order number 965/94/XX dated 19 December 20XX for some sports goods. The above consignment was delivered to us on 15 February 20XX. I regret to inform you that some of the items have been found defective and are not as per specification. It seems that this particular consignment has not undergone any inspection as not a single sports equipment is in good condition. You are, therefore, requested to replace the defective items immediately. Please do ensure the quality of the items as also the specifications this time. An early response will be highly appreciated.
Yours faithfully
XYZ
Question 6.
You had bought a mobile phone from a reputable showroom in Mumbai but after a month it developed a serious fault. Write a complaint letter to the manager asking for immediate repair or replacement of the same. You are Sadiq/Razia, 123, TT Nagar, Bhopal.
Answer:
123, T.T. Nagar
Bhopal
30 September 20XX
The Manager
Shiv Ram & Sons
Mumbai
Dear Sir
Subject: Complaint against a defective mobile phone
I bought an LG Nexus 5 from your show–room vide receipt number 123 dated 15 September 20XX. The phone has a warranty of three years vide Guarantee Card number 123 valid upto 30th August 2021. I regret to inform you that the phone has developed a technical snag and stopped working. In fact, just a few days after its purchase, it had started giving me trouble off and on but I related it to the connectivity issue or some minor fault that I thought would settle with time. Since it is still in warranty period, you are requested to replace it immediately. Needless to say that mobile phones are not a luxury but a necessity these days. An early and appropriate action will be highly appreciated.
Yours faithfully
Razia
Question 7.
You live in a crowded area in Ghaziabad, Uttar Pradesh. Unauthorized parking of vehicles in your area is causing a lot of inconvenience to the locals. Write a letter to the police commissioner district complaining against this practice. You are Akash/Akansha of Kavi Nagar, Ghaziabad.
Answer:
24, Kavi Nagar
Ghaziabad, Uttar Pradesh 201 XXX
25 January 20XX
The Police Commissioner
Ghaziabad 201XXX
Dear Sir
Subject: Unauthorised parking in Kavi Nagar
I would like to draw your kind attention towards the problem of unauthorised parking of vehicles in Kavi Nagar area. The locals have lodged various complaints to the local police station but all in vain. This is one of the most crowded market place of the area where a proper parking place is required. The unauthorised parking causes a lot of inconvenience to the residents. Narrow streets are blocked causing accidents and frequent road rages. Not a day passes when there are no physical fights, use of abusive language or occurrence of untoward incidents. The cars could be towed away from the unauthorised lot and heavily fined. A stern action on your part would truly be appreciated. You are, therefore, requested to direct the local police to monitor the parking in the area and do the needful.
Yours faithfully
Akash
Question 8.
Write a letter to the Municipal Chairman of New Town, North East District, about the dilapidated condition of a public monument, requesting him to take urgent steps for the preservation of this valuable heritage. You are Anuj/Anju, 40, Civil Lines, New Town.
Answer:
40, Civil Lines
New Town
Delhi 1100XX
11 December 20XX
The Municipal Chairman
New Town
North East District
Delhi 1100XX
Dear Sir
Subject: Preservation of public monuments
I would like to draw your attention to the deteriorating state of historical monuments in the city. Despite several complaints; no action has been taken till date. Most of the monuments are in a pitiable state. There is no proper maintenance of these monuments. These have not been cleaned properly for years and there are heaps of garbage lying here and there. People spit on the walls and relieve themselves unchecked. Graffiti is seen everywhere bringing to light the scant regard people have for the historical monuments of their country.
These monuments are part and parcel of our cultural heritage and need to be preserved and taken care of. Proper maintenance of these monuments should be our prime concern. I hope speedy remedial action will be taken to preserve these monuments.
Yours faithfully
Anuj
Question 9.
You are Ravi/Rama of 52, Shah Road, Agra. You had bought a textbook 'First Flight for Class X from a neighbourhood bookstore. After browsing through the book, you realized that a few pa were missing and the print overlapping on a few pages. Write a complaint letter to the Manager, Prakash Books, Sadar Bazar, Agra requesting him for a replacement or refund.
Answer:
52, Shah Road
Agra 20XXXX
10 September 20XX
The Manager
Prakash Books
Sadar Bazar
Agra 20XXXX
Dear Sir
Subject: Replacement of defective book
I bought the book 'First Flight' for class 10 from your shop vide cash memo number. 123 dated 5 September 2018. After browsing through the book, I found that a few pages are missing and the print is overlapping. The book is also not properly bound. My unit tests are scheduled to begin next week and English is my first paper. As I mentioned earlier, the overlapping of print is in the first few chapters and the few last chapters. I need to prepare for the forthcoming tests.
I therefore, request you to replace the book at the earliest. The copy of cash memo is enclosed herewith for your reference. It would be deeply appreciated if such blunders are avoided in future for your reputable shop to continue enjoying the reputation that it has earned in the previous years.
Yours faithfully
Ravi
Question 10.
You are Raman/Reena of 240, Shahid Nagar, Agra. Write a letter to M/s Raju Sales Corporation complaining about the poor performance of the washing machine purchased from their showroom, mentioning clearly the specific problem you are facing and the action you want. Give all the relevant details.
Answer:
240, Shahid Nagar
Agra
25 January 20XX
The Manager
M/s Raju Sales Corporation
Agra
Writing 71
Dear Sir
Subject: Complaint about defective washing machine
I bought an LG washing machine from you Shahid Nagar Branch on 1 January 20XX vide cash memo number 123. It has a warranty of two years. I regret to inform you that it has developed a technical snag in the first month itself. Its water dispenser is not working properly. The dryer and water outlet are choked and sometimes it gives electric shock too. It's a matter of grave concern that a brand new machine should develop so many defects in the first month of its purchase.
It is not only disappointing but shocking too as the electric shocks could put the user's life at risk. Since it is still under warranty, you are, therefore, requested to replace it at the earliest. I sincerely hope that such cases are few and far between and do not get repeated.
Yours faithfully
Raman
Question 11.
You are Deep/Deepa, Librarian of Happy Public School, Shamli. You had placed an order for a few books for your school library. When the books were delivered, you found some were damaged and some were missing. Write a letter to the Sales Manager of Student Publishers Limited, Delhi asking for their immediate replacement.
Answer:
Happy Public School
Shamli
20 January 20XX
The Sales Manager
Student Publishers Limited
Delhi
Dear Sir
Subject: Replacement of missing and damaged books
This is with reference to our order no 967084/3421/16. The parcel was delivered on 18 January 20XX. It pains me to write that the condition of some of the books was deplorable. Knowing the track record and the amicable relationship that we have shared over the past few years, this condition of the books came as a big disappointment. Some books, we received, were found damaged and some were missing. The following is the list of books for which we require immediate replacement.
| | | |
| --- | --- | --- |
| Book | Author | Type of damage |
| 1. Fault in Our Stars | John Green | wet |
| 2. Paper Town | John Green | wet |
The following is the list of the missing books.
Book
Author
1. Top Letter
2.  Pride and Pyramid
3.  Latest General Knowledge
SK Taneja
Tane Ashish
KK Ghai
You are requested to provide the above books without any delay.
Yours faithfully
Deep Librarian
Question 12.
You are Reena/Raju of 85, Ramesh Nagar, New Delhi. Write a letter to the General Manager, DTC, complaining about inadequate bus service in your area and urging him to take urgent steps in this matter.
Answer:
85, Ramesh Nagar
New Delhi
14 April 20XX
The General Manager
DTC
New Delhi
Dear Sir
Subject: Inadequate bus services in Raj Nagar area
I would like to draw your attention to the irregular bus service in our area. The buses never come on time and commuters experience a lot of inconvenience while waiting at the bus stop for hours. The matter gets compounded when the drivers and conductors do not stop the bus at the bus stop or speed away before one gets in or out of it. Many a time it leads to serious injuries to commuters. Sometimes we see a number of buses plying on the same route while as others there are no buses for hours.
I, therefore request you to look into matter and take urgent remedial action. More buses should be put on the road. The useless ones should be taken off to ensure speedy and regular trouble–free traffic.
Thanking you
Yours faithfully
Raju