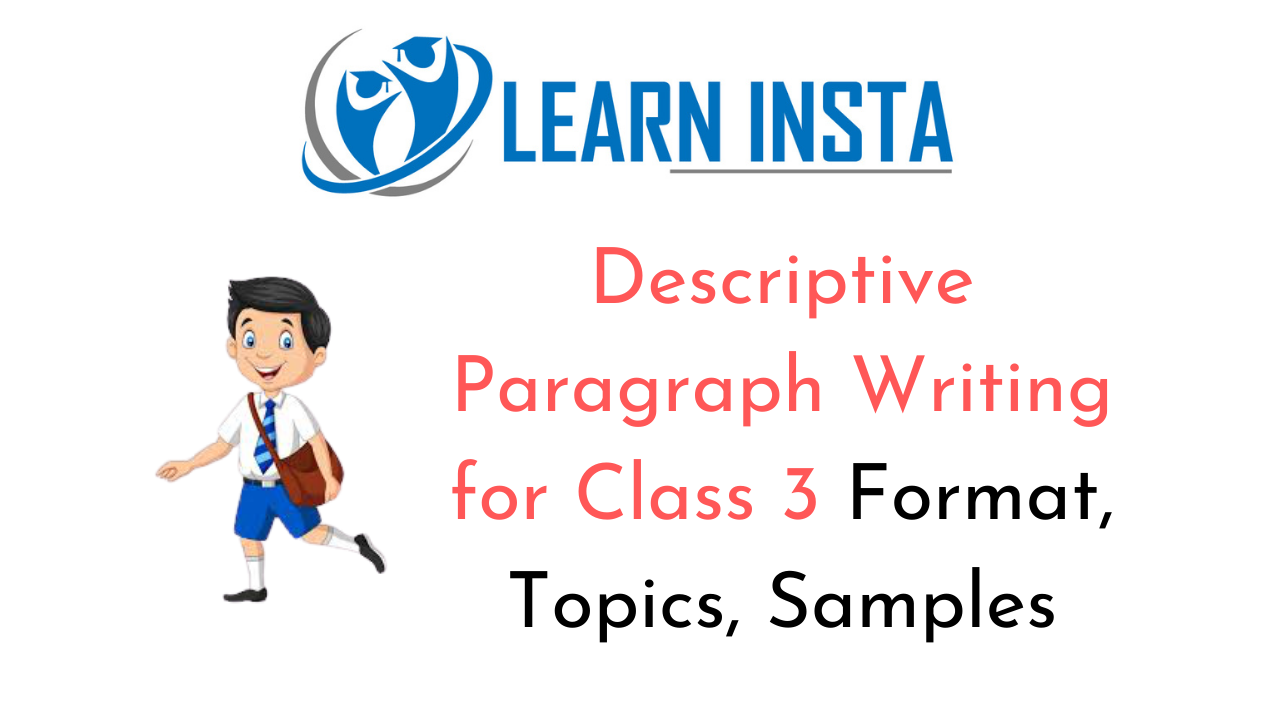 This grammar section explains English Grammar in a clear and simple way. There are example sentences to show how the language is used.
Descriptive Paragraph Writing for Class 3 CBSE Format, Topics, Examples, Samples PDF
Fundamentals
The primary purpose of descriptive writing is to describe a person, place or a thing in such a way that a picture is formed in the reader's mind. Capturing an event through descriptive writing involves paying close attention to the details and using all of the five senses.
Descriptive Paragraph Exercises with Answers for Class 3 CBSE PDF
Steps require to write a good descriptive writing.
Step 1: Write the Title.
Step 2: Introduce the title.
Step 3: Use Chart planner technique which includes the answers of 'W' Family. Who, What, When, Which and How.
Step 4: Use correct Grammar and Punctuation.
Step 5: Use describing words.
Step 6: Concluding Note
Write a short paragraph on My Favourite Story Book.
Title: My Favourite Story Book
Descriptive Paragraph Writing for Class 3 Chart Planner
Question Words
Which story do you like?
Who has written it?
What is the story?
How do you feel?
Picture
Key Words
The Ugly Duckling
Written by Hans Christian Anderson
He wrote beautiful fairy tales.
The story is about little ugly duckling who was earlier ignored by everyone but with the passage of time ugly duckling grew into a beautiful swan. No one remain mean to him.
Feel happy and excited!
Read the story.

My Favourite Storybook
My favourite storybook is The Ugly Duckling. It was written by a famous writer called Hans Christian Anderson. He wrote beautiful fairytales for children. This story has also been made into a movie.The story is about a little duckling. Everyone thought he was ugly. His parents, brothers and sisters ignored him because he was different. He did not look like them and he did not sound like them. Everyone made fun of him. He was lonely and sad.
Time passed and soon the ugly duckling grew into a beautiful swan. He was not an ugly duckling anymore. Everyone admired him and no one was mean to him anymore.
This is my favourité storybook bacause it has a happy ending. I like happy endings. I like to believe that every thing will turn out right in the end.
Descriptive Paragraph Worksheet 3rd Grade CBSE PDF
Write a descriptive paragraph on 'The person I admire the most in your notebook with the help of the following steps. Step 1: Write the title.
Step 2: Make a Chart Planner.
Step 3: Write a descriptive paragraph.
…………………………………………………………………………………………………………………………………………………………………………………………………
…………………………………………………………………………………………………………………………………………………………………………………………………
…………………………………………………………………………………………………………………………………………………………………………………………………
…………………………………………………………………………………………………………………………………………………………………………………………………
…………………………………………………………………………………………………………………………………………………………………………………………………
…………………………………………………………………………………………………………………………………………………………………………………………………