Students can access the CBSE Sample Papers for Class 10 English with Solutions and marking scheme Term 2 Set 6 will help students in understanding the difficulty level of the exam.
CBSE Sample Papers for Class 10 English Term 2 Set 6 with Solutions
Time : 2 Hours
Max. Marks : 40
General Instructions :
The Question Paper contains THREE sections-READING. WRITING & GRAMMAR and LITERATURE.
Attempt questions based on specific instructions for each part.
Section-A
Reading (10 marks)
Question 1.
Read the passage given below.
1. When chlorine and bromine atoms come into contact with ozone in the stratosphere, they destroy ozone molecules. One chlorine atom can destroy over 100,000 ozone molecules before it is removed from the stratosphere. Ozone can be destroyed more quickly than it is naturally created.
2. In the 1970s, concerns about the effects of ozone-depleting substances (ODS) on the stratospheric ozone layer prompted several countries, including the United States, to ban the use of chlorofluorocarbons (CFCs) as aerosol propellants. However, global production of CFCs and other ODS continued to grow rapidly as new uses were found for these chemicals in refrigeration, fire suppression, foam insulation, and other applications.
3. Some natural processes, such as huge volcanic eruptions, can have an indirect effect on ozone levels. For example, Mt. Pinatubo's 1991 eruption did not increase stratospheric chlorine concentrations, but it did produce large amounts of tiny particles called aerosols (different from consumer products also known as aerosols). These aerosols increase chlorine's effectiveness at destroying ozone. The aerosols in the stratosphere create a surface on which CFC-based chlorine can destroy ozone. However, the effect of volcanoes is short-lived.
4. Not all chlorine and bromine sources contribute to ozone layer depletion. For example, researchers have found that chlorine from swimming pools, industrial plants, sea salt, and volcanoes does not reach the stratosphere. In contrast, ODS are very stable and do not dissolve in rain. Thus, there are no natural processes that remove the ODS from the lower atmosphere.
5. One example of ozone depletion is the annual ozone "hole" over Antarctica that has occurred during the Antarctic Spring since the early 1980s. This is not a hole through the ozone layer, but rather a large area of the stratosphere with extremely low amounts of ozone.
6. Ozone depletion is not limited to the area over the South Pole. Research has shown that ozone depletion occurs over the latitudes that include North America, Europe, Asia, and much of Africa, Australia, and South America. More information about the global extent of ozone depletion can be found in the Scientific Assessment of Ozone Depletion: 2018 developed by the United Nations Environment Programme.
Adapted from: https://www.epa.gov/ozone-layer-protection/basic-ozone-layer-science#:~:text=II.-,Ozone%20Depletion,than%20it%20is%20naturally%20created.
Based on your understanding of the passage, answer ANY FIVE questions from the six given below. [1 x 5]
(i) Why do you think that natural processes like huge volcanic eruptions have a huge impact on the depletion of the ozone layer, even if the eruptions do not increase chlorine concentration in the environment? (1)
Answer:
Some natural processes like huge volcanic eruptions do not affect the ozone layer directly because they do not increase chlorine concentration; instead, these eruptions introduce aerosols in the stratosphere which makes a layer for the chlorine to react vigorously with the ozone layer.
(ii) Not all chlorine and bromine sources contribute to ozone layer depletion. Why? (1)
Answer:
Not all chlorine and bromine sources destroy the ozone layer, as the ground-level chlorine and bromine cannot reach the upper stratosphere.
(iii) What are ODS? Explain with examples. (1)
Answer:
ODS stands for Ozone Depleting Substances. When it comes into contact with the ozone, it starts reacting with ozone molecules to form a new compound. One atom of ODS can destroy up to 10,000 molecules of ozone, e.g. Chlorine, Bromine, CFCs, etc.
(iv) Why did the global production of CFCs not stop after being banned as aerosol propellants in the 1970s? (1)
Answer:
In 1970, the production of ODS was banned as aerosol propellants due to rising awareness of the depleting ozone. Yet, the production of CFCs did not stop because people around the world found it useful in many new applications besides aerosol propellants. So, the production of CFCs continued and it is now being used in applications like refrigeration, fire suppression and foam insulation.
(v) Write two different ways to control ozone depletion. (1)
Answer:
The two different ways to control ozone depletion are as follows:
We need to avoid producing gases that are harmful to the ozone layer.
We should use fewer electronic gadgets and find ways to avoid polluting our environment,
(vi) Name the regions mentioned in this passage where ozone depletion usually occurs. (1)
Answer:
The depletion of the ozone layer occurs in almost all the continents including Asia, Europe,
North America and much of Africa, South America and Australia.
Question 2.
Read the following excerpt from a case study titled COVID Awareness in the Indian Society.
1. COVID-19, which was initiated regionally at Wuhan in China, has become a global pandemic by infecting people from almost all over the world. Human civilisations are facing threats to their survival and livelihood. No country is getting any substantial relief and solution from this pandemic. They are only convincing their citizens to be aware and take precaution by changing their living style. In view of this, this study attempted to assess the awareness, threat, symptoms and prevention among people of India about COVID-19.
2. The main objective of this study was to assess the knowledge and awareness level regarding the spread and prevention of COVID-19 among the people of Indian societies. The secondary objective was to evaluate the potential challenges which the government can face while trying to control the spread of the disease.
3. The method involved gathering responses to a simple questionnaire containing six questions. This questionnaire was shared with 522 people from different parts of India.
4. The research began with preparing a semi-structured questionnaire that was shared with people through WhatsApp. Most of the respondents were above 15 years and possessed smartphones. A total of 533 responses were recorded out of which 522 were complete and hence they were considered for the study. The responses were gathered and tabulated as shown below:
| | | | |
| --- | --- | --- | --- |
| What do you know about coronavirus? | Yes | No | Do not know |
| It is caused by a virus | 494 | 13 | 15 |
| It can spread from one person to another | 513 | 0 | 8 |
| It can be prevented | 414 | 43 | 65 |
| It is the same as the common cold | 142 | 333 | 47 |
| It occurs at a certain period of the year | 54 | 334 | 128 |
| COVID-19 symptoms are worse among diabetics | 315 | 67 | 140 |
5. The study suggested that the majority number of respondents were adequately aware of basic information about the virus. Out of the total participants, 98% (513) answered that the virus spreads from one person to another, 95% (494) answered that the disease is caused by a virus. The study showed, 79% (414) respondents are confident that the disease can be prevented and 60% (315) reported that symptoms of the COVID-19 virus are worse among diabetic persons.
6. The observations in this study recommend that the government must take essential steps to ensure the sanitization of public places. The population is getting adapted to the hygiene practices and social distancing. Hence, the government should make necessary arrangements for that. People are following trusted sources of information such as TV, newspapers and official government websites, so the government should broadcast all relevant information to these platforms. Worries and anxiety among the public regarding COVID-19 disease can be checked and quickly reduced by counselling.
Largely adapted from: https://www.ncbi.nlm.nih.gov/pmc/articles/PMC7460945/ On the basis of your understanding of the passage, answer ANY FIVE questions from the six given below.
(i) How can COVID-19 be prevented by changing our living style? (1)
Answer:
COVID-19 can be prevented by making some crucial changes in our lifestyles. We need to avoid physical interactions with people in the market. Always wear a mask and use a sanitiser. We should avoid public gatherings and family functions.
(ii) Comment on the significance of the main objective of this study with reference to the second paragraph. (1)
Answer:
The main objective of this study was to gain a basic idea and understand the awareness level of COVID-19 among the people. It also aimed to observe the different ways that can be adopted to spread awareness and how the government can apply these solutions.
(iii) Why do the researchers suggest ensuring the sanitization of public places? Justify researchers' recommendation to make arrangements to maintain the hygiene and social distancing practices even when the population has adapted themselves to these practices. (1)
Answer:
The sanitisation of public places is very necessary as it can help in minimising the spread of the virus. Different people gather at these public places for different purposes. Sanitising these places will help in preventing the spread of the virus.
(iv) 'Even though a larger number of people agree with the fact that COVID-19 spreads from person to the person there are quite a number of people believes that it is just a common cold. (1)
Answer:
This virus is not going anywhere soon. So, we all need to make changes in our daily lives and stick to those. Even though the population has adapted to these changes, the government should make necessary arrangements like maintaining proper spacing at public places, installing sanitisation booths, recruiting volunteers to keep these habits in practice forever.
(v) Explain what might be the consequence of such misconception? (1)
Answer:
From the data given in Table 1, we can see that most people are aware that the virus spreads from person to person, but many of them are having a misconception that the disease is the same as the common cold, it spreads at a certain time of the year, and is worse among the people suffering from diabetes. These misconceptions may lead to the carelessness of a large number of people and lead to a massive outbreak of the disease.
(vi) What is the significance of the given data in the 'Do not know' column? (1)
Answer:
The data given in the 'Do not know' column represent the number of people who are not aware of COVID-19. These people need to be informed through proper and reliable sources as they can undermine the efforts of billions of people in this world.
Section – B
Writing and Grammar(10 marks)
Question 3.
Attempt ANY ONE from (i) and (ii).
(i) Study the concept chart from the self-help magazine section of a weekly publication. (5)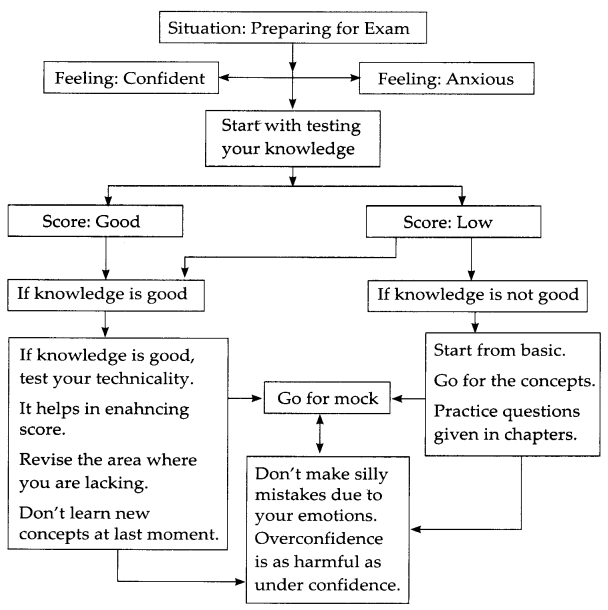 Write a paragraph in not more than 120 words, analysing the steps that one must follow while preparing for an exam.
Answer:
Preparing for Exam
Preparing for exams can be really exhausting for us. Our emotions do not speak for our preparations. Sometimes, we may feel confident and score low and vice-versa. So, appearing for mock tests is the right way to judge the level of preparation. If the score is good, we need to figure out ways to increase the score by improving our technicalities. If the score is not good, we should start with revising our chapters. Start with basic concepts, go for examples and then, the questions given in the chapters. Then, go for the mocks on a regular basis and keep analysing your score. Technicalities play an important role in the exam hall. Stay strong and hydrated. Control your feelings on the exam day and rock it.
(ii) You are Muskan Mohanti, Class X, Bangalore, Karnataka. You come across the following . information on a book shop notice board.
On-spot Best Science Model Competition
Make a successful science model on-spot at
ISRO HQ, Department of Space, Antariksh Bhawan,
New Bel Road, Bangalore-569231 Attractive scholarships for the winners!
You wish to participate but require more information. Write a letter to ISRO HQ in about 120 words, enquiring about rules, scholarship details and the tools required for the science model. Also, strengthen/counter rationale/evidence enquire about specifications for solo or group entries.
Answer:
ISRO HQ
Department of Space
Antariksha Bhavan
New Bel Road
Banglore-569 231
Date: 19/01/2022
The organiser
Science Model Competition
Subject: Requesting more details regarding the 'Science Model Competition'
Sir/Madam
This letter is being written to access more information regarding the latest science model competition being organised by ISRO. I am really excited to participate in this competition and want to know what themes are allowed for this competition. Some other information regarding this competition like the duration of the competition and who all are allowed to accompany the contestants are also requested, I want to confirm whether I need to bring my equipment for the competition myself, or ISRO, itself, will be providing it to us.
Please reply as soon as possible as it will be really helpful for us to make the decision, accordingly.
Thanking you
Yours faithfully
Muskan Mohanti
Question 4.
The following paragraph has not been edited. There is one error in each line. Identify the error and write its correction against the correct blank number. Remember to underline the correction. The first one has been done for you. [1 x 3]
| | | | |
| --- | --- | --- | --- |
| We all have hear the phrase "Honesty is the Best Policy." | Example | Error hear | Correction heard |
| It is indeed a wise phrase. Probably, every child learn | (a) | …………. | …………. |
| this teaching by their parents. This beautiful teaching | (b) | …………. | …………. |
| has been taught since time memorial. However, its practice has certainly fallen short. | (c) | …………. | …………. |
Answer:
| | |
| --- | --- |
| Error | Correction |
| (a) learn | Learns |
| (b) by | From |
| (c) memorial | immemorial |
Question 5.
Given below is a conversation between a judge and a police officer. Fill in the blanks in the paragraph below by choosing the correct option from the ones given. [1 x 2 = 2]
Judge: I ordered you to arrest the conspirators in this case. Why are they still on the run?
Police Officer: Milord, we arrested him twice in this case but they have successfully escaped every time.
The judge had ordered the police officer to arrest the conspirators in this case and asked him
(a) ……………………… The police officer respectfully answered that they had arrested them twice in that case but (b) ………………………………… every time.
Answer:
(a) why they were still on the run
(b) they had successfully escaped
Section – C
Literature (20 marks)
Question 6.
Answer ANY SIX questions in 30-40 words each. [2 x 6]
(i) "He who seeks peace should draw out the arrow of lamentation, and complaint, and grief." What do these words of Buddha signify? (2)
(ii) What reasons does the poet give to justify that animals are more virtuous than humans? (2)
(iii) Why does the speaker feel that people will think she always nags at Amanda? (2)
(iv) Justify the title of the poem 'The Tale of Custard the Dragon'. (2)
(v) Suggest an instance from 'The Proposal' where we could find Chubukov's extreme eagerness to get his daughter married to Lomov. (2)
(vi) Describe in brief how Matilda's desires brought miseries to her life? (2)
(vii) Comment on the hack driver's wit. (2)
Answer:
(i) These words signify that a person should get rid of all negative actions and energies around him/her to become composed and obtain mental peace. Death is an unavoidable truth of life and the destiny of every living being on Earth. Lamentation can never bring the dead back. So, it is better to stop lamenting over things that cannot be changed.
(ii) The poet feels that the animals are more virtuous than men, as animals, unlike humans, do not possess any type of greed to own materialistic things in this world.
They do not show or contain any type of vices that are possessed by humans.
(iii) The speaker of this poem feels that people will think she always nags at Amanda, as Amanda is a very beautiful child, full of innocence. She loves to be free and has a desire to become a mermaid, so that she can sail through the deep silent sea and enjoy everything in her way. The speaker seems to be an overprotective parent who keeps nagging her child for every little thing like not to eat chocolates, not to bite nails.
(iv) 'The Tale of Custard the Dragon' is a humorous ballad written by Ogden Nash. The poet has described a little girl named Belinda who has four pets. It includes a cat, a mouse, a dog and a dragon. The poet describes that all the pets are known for their bravery like tigers and lions except the dragon, who turns out to be timid. But, one night, they were attacked by a pirate and the dragon saved their lives by gulping him down. They realised that the dragon is not timid yet they stick to making fun of him. This poem is all about the dragon and his act of bravery. Thus, its title is justified.
(v) When Lomov visited Chubukov's house in the evening, Chubukov thought that he must have come to borrow money from him and he would not lend him any money, in any case. But, when he came to know that Lomov had come to propose to his daughter, his happiness knew no bounds and he hugged Lomov and started kissing him.
(vi) Matilda always had a desire for delicacies, languish dinner and costly jewellery. She always dreamt of becoming rich, but she could never become rich. This feeling of emptiness led her to the miseries in her life. She asked for costly jewellery from her friend and then lost it at the party. This is where her life took a turn.
(vii) Oliver Lutkins is nothing but a crook who pretended to be Bill Magnuson and cheated the lawyer who had coke from the town to serve the summon to Oliver. The hack driver was a resident of a country town and used all his wits to con this lawyer. He took the lawyer all over the town in search of Oliver and did not let him talk to the local shopkeepers. He talked to them himself and informed the lawyer every time that Oliver had just left. The lawyer assumed that Oliver must be a wicked person, but did not question Bill Magnuson.
Question 7.
Answer ANY TWO of the following in about 120 words each. [4 x 2]
(i) A teacher can serve as a milestone in the long run of a successful life. Throw light on this statement by explaining the role of the teachers in the life of Ebright and Bholi. (4)
Answer:
The teachers often play an important role in students' life. This is a fact and can not be doubted and in the story of Bholi and the making of a scientist, we get to see many instances in the life of Bholi and Ebright where their teachers transformed their life.
Bholi used to be an introverted girl who was afraid of speaking publicly and never dared to express herself until her teacher discovered her. Her teacher encouraged Bholi and helped her realise her inner potential and work on it. The teacher helped her overcome the hesitations and speak frankly.
In case of Ebright, Dr Urquhart was always there for him. He used to write to Dr Urquhart for different creative ideas, frequently and this famous scientist always loved to help him by suggesting him many experiments.
(ii) Based on your understanding of Glimpses of India, develop a conversation between two friends (Kavita and Sonu) where one tries to convince the other to visit Goa during the Christmas break. (4)
You can begin like this:
Kavita: Hey Sonu! What's your plan for this Christmas? Let us convince our parents to plan a trip to Goa during the Christmas break.
Sonu: Yes!! I am also willing to do the same…
Answer:
Kavita: Hey Sonu! What's your plan for this Christmas? Let us convince our parents to plan a trip to Goa during the Christmas break.
Sonu: Yes! I am also willing to do the same but I have not thought about Goa.
Kavita: I feel Goa would be a better destination for the Christmas break. The old Portuguese churches and architects are quite mesmerising in Goa.
Sonu: What are the other things Goa is famous for?
Kavita: The love for bakeries in Goa!! Bread is an important part of Goan life and is served in almost every important function.
Sonu: Amazing!! This means, we would get to taste various types of bread there.
Kavita: Of course, and also get to meet the Paders or the bakers of those bread.
(iii) Valliammai is different from the other kids of her own age. Explain this with the help of the title of the story, " Madam Rides the Bus". (4)
Answer:
'Madam' refers to a grown-up woman. The story 'Madam Rides the Bus' is about an eight years old girl who is addressed as Madam by the bus conductor when he realises her maturity. She proves her maturity over other kids of her age at several instances in the story, like when she resists all her temptation to save money for a bus ticket, refuses to accept a drink offered by the bus conductor, responsibly plans a bus trip to the town when her mother takes the afternoon nap, accepts the death of a cow, and agrees with her mother on the numerous possibilities in the world outside without speaking much.