Students can access the CBSE Sample Papers for Class 10 English with Solutions and marking scheme Term 2 Set 4 will help students in understanding the difficulty level of the exam.
CBSE Sample Papers for Class 10 English Term 2 Set 4 with Solutions
Time : 2 Hours
Max. Marks : 40
General Instructions :
The Question Paper contains THREE sections-READING. WRITING & GRAMMAR and LITERATURE.
Attempt questions based on specific instructions for each part.
Section – A
Reading (10 marks)
Question 1.
Read the passage given below.
1. Pingu, the Pelican, lost no opportunity to show off his large beak, but when a fish got stuck in his throat and other birds came to his rescue, he decided never to brag again.
2. Pingu the spot-billed Pelican was very proud of his beak. Everyday, Pingu would catch fish in the estuary with his beak acting like a fishing net. Since his gular pouch stretched many times of its size, Pingu was able to catch very large fish. And, everyday, when he would catch a large fish and gulp it down, he would feel proud and satisfied at having such a unique beak. He felt so proud of his beak that he started boasting about it to every bird he met. Initially, the waders, ducks, geese and herons heard him politely, but when he started making fun of their beaks, they began to avoid him.
3. This spurred Pingu to show off his beak in every chance he got. One day, he caught a particularly large catfish. This catfish had extremely large barbels around its mouth. Now, Pingu generally gulped the fish as fast as he could so that no other birds could steal it. But, today, he really wanted to show off to his friends. So he swam around in the estuary with the fish in his pouch¬like throat and searched for his friends.
4. Near the sandy shore, he saw a flock of Sand Plovers. The plovers were catching crabs and insects just on the surface of the sand. He swam near them and in a mocking tone said, "You tiny plovers, have you ever seen a fish this size? Now see, how I gulp it with my glorious beak." Saying so, he gave a loud laugh and gulped the large fish. Down went the fish in his throat and its long catlike whiskers got caught just at the end and he choked.
5. "Cough… Cough! Help! Help! Somebody help! I am choking!" The Sand Plovers all trilled in concern came running to Pingu. "Oh dear! You poor thing! We wish we could help but..trrr… trrr…our beaks are small, designed to catch insects, worms and crabs from the surface, we cannot pull the catfish from your throat. Wait, we will ask the Redshank, he has a longer beak than ours," ran the Plovers, trilling all the way to ask the Common Redshank to help poor Pingu. The Common Redshank was a handsome bird with a sharp beak and bright orange legs. The Redshank took a long look at Pingu and said, my beak isn't long enough to help you. But see the Oyster catcher there, the one that has a mussel in its beak, his beak is longer than mine. I am sure he will help you." Pingu could do nothing more than nod.
6. Eurasian Oyster catcher arrived, he fixed his bright red eye on Pingu and said, my beak is long but you need a longer and curved beak that can reach inside your throat to pull the catfish out. Only the Curlew can help you. Please look for a brown bird with a long curved beak. The Plovers, Redshank and Oyster catcher all flew away in search of the Curlew, while Pingu waited feeling miserable. [1 x 3]
Based on your understanding of the passage, answer ANY FIVE questions from the six given below.
(i) Which birds eat crabs, insects and worms from the surface of the shore? (1)
Answer:
Sand Plovers eat crabs, insects and worms from the surface of the shore.
(ii) What is the area where the river meets the sea called? (1)
Answer:
The area where the river meets the sea is called an estuary.
(iii) What are the whisker like feelers of a catfish called? (1)
Answer:
The whisker like feelers of a catfish are called barbels.
(iv) What lesson did Pingu learn? What was his feeling? (1)
Answer:
Pingu learnt a great lesson that one should not boast about anything. Every creature on this earth has its own capabilities. Pingu was feeling miserable as he got choked with the catfish stuck in his throat, and then, he was asking for help from the other creatures.
(v) Do you think Pingu's misery was justified at the end? (1)
Answer:
Pingu loved to brag about his beak and mock others for theirs. It was about time that karma showed him the consequence of mocking others, and meanwhile, he also realised his mistake while everyone else flew away to find the Curlew.
(vi) Rewrite the following sentence by replacing the underlined phrase with a word that means the same from paragraph 2. (1)
The taste of the medicine was so bad that I couldn't quickly swallow it in all at once.
Answer:
The taste of the medicine was so bad that I couldn't gulp it down in all at once.
Question 2.
Read the following excerpt from a case study titled Animals and Rain.
1. Do animals, birds and insects love the rains?
2. Some of us love rains and cannot resist stepping out and dancing in them, whereas others love watching and listening to its sound while sipping a hot cup of coffee. There cannot be many who hate rain, unless it turns out to be incessant, causing flood and disasters. What about animals? Do they like to stroll and dance in the shower or do they run for cover? Tastes and preferences differ in the animal kingdom too. While some do not mind rain, others are simply annoyed or scared.
3. Rain avoiders : For warm-blooded animals like mammals and birds, getting drenched in rain can be dangerous. They have to keep up their body temperature or they may become too cold to stay alive. But almost all species have some kind of protection on their skin – fur in animals and feathers in birds. A few drops or a few hours of rain are bearable. Their fur will help them to stay warm. Some birds dip their bills into oil glands near their tails and apply it over their feathers. The oil serves like a raincoat for a while. But when the rain gets worse, the animals use other tactics to stay dry. A deer may flatten its ears to keep water out and a hippo may close its nostrils.
4. Don't minders : But a hippo or a buffalo do not mind pouring rain. They stand still and wait out a sudden storm. It's a thick layer of fat that's at work in these animals in rain.
5. Cuddlers : Most terrestrial animals seek cover. In the forest, during storms, orangutans have been observed to make 'hats' out of leaves. They also retreat to an enclosure and huddle together, sitting out in rains. They may shelter under rocks or underground or on tree logs.
6. What about animals in the water? Frogs, turtles and fish may retreat to lower levels of lakes and ponds, with some seeking added shelter under things like fallen rocks or woods. Thunder and lightning can freak out many animals – even big elephants and apes.
7. Rain bravers Reptiles' scaly skins are composed of a protein called keratin, which allows waterproofing qualities. It also helps to remain hydrated. Crocodiles are pretty good at dealing with inclement weather. They remain calm and cool and never freak out. It's a different story for furry animals, such as giant pandas, tigers, brown bears. They can just shake themselves dry in mere seconds. For some animals, the rainy season is a time to party. On a rainy day, elephants head out for some mud bath, while toads look out for their mate. Earthworms end their day's long confinement under the soil and peep out their head. For it is time to slither on the surface, while still staying moist.
Ideal Body Temperature of Animals and Birds
Species
Temperature in Celsius (°C)
Human
37
Hippopotamus
37.8
Water Buffalo
38.2
Peacock
38.9
Orangutan
36.5
Deer
40
Frog
23
Crocodile
30
Elephant
36.5
Brown Bear
37.5
Earthworm
22
On the basis of your understanding of the passage, answer ANY FIVE questions from the six given below.  [1 x 5]
(i) Write the synonym of 'withdraw'. (1)
Answer:
The synonym of 'withdraw' is retreat.
(ii) What helps reptiles brave the rains? (1)
Answer:
Reptiles' scaly skins are composed of a protein called keratin, which allows waterproofing qualities to brave the rains.
(iii) Are there many who hate rain? (1)
Answer:
There cannot be many who hate rain, unless it turns out to be incessant, causing floods and disasters.
(iv) Which word in the passage is the same as 'bleak'? (1)
Answer:
The word inclement is the same as bleak.
(v) With reference to the data provided in the table in the passage, which animals would you club into cold-blooded category? (1)
Answer:
Frog, earthworm and crocodiles have the lowest body temperature of them all, hence they can be clubbed into cold-blooded category.
(vi) The passage says that a few drops or a few hours of rain are bearable with respect to rain-avoider animals. Justify the comment. (1)
Answer:
For warm-blooded animals like mammals and birds, getting drenched in rain can be dangerous. They have to keep up their body temperature or they may become too cold to stay alive. But almost all species have some kind of protection on their skin – fur in animals and feathers in birds. These adaptations make rain bearable for a few hours.
Section – B
Writing and Grammar (10 marks)
Question 3.
Attempt ANY ONE from (i) and (ii).
(i) Write an analytical paragraph in 100-120 words about the status of the Girl-child in India. You can take clues from the points in the given picture. (5)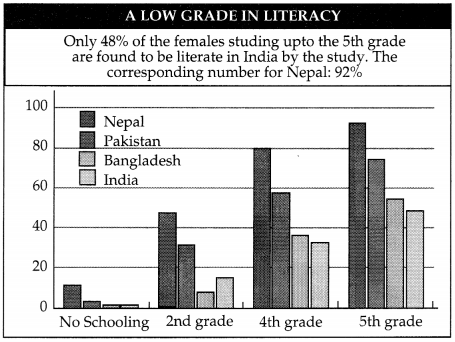 Answer:
Status of Girl Child in India:
Looking at the statistics taken for no schooling, 2nd, 4th and 5th grade education, India's level of girl's education is very weak. The figures have improved significantly, but there is still a long way to go. Various factors make it difficult for girls to get an education in our country. Firstly, the poverty rate is alarming, so families who can't make earnings fail to pay the educational expenses of their children. Secondly, in rural areas, there aren't many schools. In some areas, students have to walk for three to four hours to reach their school.
This is where the safety of the girls gets compromised, so parents don't see it fit to send them off so far. Furthermore, the regressive thinking of the people makes it tougher for girls to get an education. Finally, looking at the given graph, Nepal and Pakistan stand better with regards to girl's education in the 2nd, 4th and 5th grades and Bangladesh and India are at a lower level when it comes to girl's education.
(ii) You are Riya of C-70, Rajouri Garden, Delhi. You are a health-conscious person. You came across an advertisement in the newspaper on fitness classes in your surroundings. Write a letter to the organisers enquiring about the course and other relevant details.
GET FIT! GET HEALTHY!
New classes available now for
HIGH-INTENSITY INTERVAL TRAINING
Get better results and adopt a better lifestyle
Courses available at
FITNESS WORLD
RK Puram, New Delhi 1100XX
For more details, contact Organizer: 91000XXXXX
Answer:
C-70, Rajouri Garden
Delhi 1100XX
12 December, 20XX
The Organizer
Fitness World
RK Puram
New Delhi 1100XX
Subject: Inquiry about fitness classes
Dear Sir
I came across your advertisement in the Indian Express dated 11th October. I am writing this letter to know the details about the Fitness classes offered by you.
I am a student, and it makes me uncomfortable to see the growing unhealthy lifestyle, unhealthy eating habits and thus increasing diseases and many health issues. Being from a doctor family, I understand the importance of exercise. Thus, I wish to know the details, including the courses offered, their duration and the fee structure so that I can make my friends and other people to join this course along with me.
Thanking you in anticipation.
Yours faithfully,
Riya Roy
Question 4.
The following paragraph has not been edited. There is one error in each line. Identify the error and write its correction against the correct blank number. Remember to underline the correction. The first one has been done for you. [1 x 3]
| | | | |
| --- | --- | --- | --- |
| | | Error | Correction |
| The status of women in India is undergoing a gradual change. | Example | is undergoing | Has undergone |
| Earlier women was confined to the | (a) | ……………….. | ……………….. |
| house. They had looked after the | (b) | ……………….. | ……………….. |
| household affairs only. But now they work shoulder to shoulder with men. | (c) | ……………….. | ……………….. |
Answer:
| | |
| --- | --- |
| Error | Correction |
| was confined | were confined |
| had looked | looked |
| work | are working |
Question 5.
Given below is a conversation between a fox and a crow. Fill in the blanks in the paragraph below by choosing the correct option from the ones given. [1 x 2 = 2]
Fox: Hello, Mr. crow, how are you?
Crow: I am fine, Mr. fox.
Fox: I have heard that your voice is very melodious, can you please sing a song for me?
The fox asked the crow _________ (a) and _________ (b) _________.
Answer:
(a) how he was
(b) requested him to sing a song for him
Section – C
Literature (20 marks)
Question 6.
Answer ANY SIX questions in 30-40 words each. [2 x 6]
(i) What is so ironic about the proposal in "The Proposal"? (2)
(ii) Comment on Amanda's childhood. (2)
(iii) Comment on how "Tale of Custard" teaches us about deceptive appearance? (2)
(iv) How does Walt Whitman find animals better than humans? (2)
(v) What is the theory of Arab origin about the Coorgis? (2)
(vi) What did the novice clerk like the most about the hack driver? (2)
(vii) Being inquisitive was rewarding for Ebright, regardless the level of importance of the subject matter. Comment. (2)
Answer:
(i) It is so ironic that Chubukov was unwilling to lend any money to Lomov, in case he asked
but was ecstatic to get his proposal for his daughter. Again the fact that Natalya and Lomov acknowledged their marriage all the while debating fiercely on the ownership of meadows.
(ii) Amanda's childhood is similar to that of any other child. Her freedom is curtailed and her every activity is regulated. She is rebuked when she goes her way. She is similar to any other child.
(iii) The ballad builds the dragon Custard's image as childish, namby-pamby who loved to be tickled. But at the end, it was Custard who ripped the attacking pirate apart. This is how appearances are often deceptive.
(iv) Animals do not complain about their situations, they do not preach the complexities of religion, they accept humans for who they are. These are the ways animals act in a better way than humans do in life.
(v) The independent people of Coorg are probably of Arab descent and this theory of Arab gets its support from the long, black coat along with an embroidered waist-belt worn by the Kodavus. It resembled the Kuffia worn by the Arabs.
(vi) The clerk loved the verbose hack driver and his candid behaviour. The way he brought to life the people he talked about was refreshing to the clerk as he disliked a mechanised life and craved for a simpler one.
(vii) Science and serendipity walk hand in hands. Ebright's scientific curiosity pushed him to new and better discoveries, and he did all of that without considering the reward along the process. His high school research into the purpose of the spots on a monarch pupa eventually led him to his theory about cell life.
Question 7.
Answer ANY TWO of the following in about 120 words each. [4 x 2]
(i) It is our choices that decide what kind of a person we are. Critically examine the choices of Bholi and Matilda, highlighting their impact on their lives. (4)
Answer:
A person is only as great as their deeds, and the choices they make along their way. Bholi and
Matilda were both women of different shades of character. Sulekha was mockingly named Bholi, the simpleton and constantly underestimated by her parents and peers. But she decided to continue going to school and overcome her fears. She polished her speaking skills and became analytical in her thoughts. Bholi was to forcefully marry a greedy old grocer who humiliated her father for dowry before the rituals. But Bholi chose to break her silence and take a stand against it and triumph over it.
Matilda, on the other hand, was always miserable of her life. She had a caring husband, a normal life, yet all she wanted was a life full of luxury and excess. She spent most of her time building castles in the air because her reality disgusted her. However, things took a nasty turn for her when she borrowed and lost her friend's necklace, just to wear for one night and pretended to be something she wasn't, in front of the strangers. Matilda spent the next decade to toil and pay back the sum of thirty-six thousand francs. She became a haggard in this whole process.
The power of one's decision therefore cannot be denied because it paves the way for one's destiny.
(ii) Valli and the bus conductor discuss whether she would get off at the stop. Valli refuses to get off and decides to go back home via the same route. Develop a conversation between the two, based on your understanding of Madam Rides the Bus. (4)
You may begin like this:
Conductor: Here we are Madam! This is as far as your thirty paise takes you.
Valli: No, I'm not getting off. I would like to go back home the on the same bus.
Answer:
Conductor: Here we are Madam! This is as far as your thirty paise takes you.
Valli: No, I'm not getting off. I would like to go back home on the same bus.
Conductor: Ha! You came all the way on the bus just to go back again?
Valli: I just felt like having a bus ride, is that a crime? Besides, I only had enough money for the round trip.
Conductor: My apologies for offending you Madam! Here, take some money and why don't you buy something from the stalls in the market there? It'll be my treat.
Valli: No, thank you! I cannot accept anything from strangers or else my mum will scold me. Besides, I don't want to go to the busy market on my own!
Conductor: But you weren't afraid to come all this way on the bus by yourself?
Valli: And what is there to be afraid about a bus ride?
Conductor: Alright then! Whatever suits you.
(iii) Epiphany is a moment of sudden and great realisation or revelation. Evaluate Kisa Gotami's realisation, as an epiphany. (4)
Answer:
Kisa Gotami lost her only son and was so overcome by the grief that the reality of death didn't dawn upon her. She goes to Sakyamuni and begs for a miracle to bring back her son. Buddha sets her on a task to bring a handful of mustard seeds from a house that has never seen any death. Desperate Gotami embarks on the journey without even understanding the depth in Buddha's words. At last, she fails to find any house that hasn't lost a loved one. Kisa Gotami becomes weary and hopeless and sits down at the wayside, watching the flickering and extinguished lights of the city. She sits there in the darkness when an epiphany hits her. She considers the fate of men, that their lives flicker up and are extinguished again. And she thought to herself, "How selfish am I in my grief! Death is common to all yet in this valley of desolation there is a path that leads him to immortality who has surrendered all selfishness." This is the realisation that Buddha wanted to teach her, that comes to her as an epiphany.