We have decided to create the most comprehensive English Summary that will help students with learning and understanding.
Bholi Summary in English by Khwaja Ahmad Abbas
Bholi by Khwaja Ahmad Abbas About the Author
| | |
| --- | --- |
| Author Name | Khwaja Ahmad Abbas |
| Born | 7 June 1914, Panipat |
| Died | 1 June 1987, Mumbai |
| Books | The world is my village, The Thirteenth Victim, Distant Dream 2Nd/ Ed. |
| Awards | National Film Award for Best Feature Film |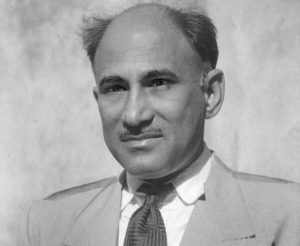 Bholi Summary in English
This is the story of Bholi, a simple girl whose real name was Sulekha. She was the fourth daughter of Numberdar Ramlal. When she was ten months old she had fallen off the cot on her head and perhaps it had damaged some part of her brain with the result she remained a backward child. When she was born she was very fair and pretty. But when she was two years old, she had an attack of smallpox. Only her eyes were saved, but her whole body was disfigured by deep black pock-marks. She started speaking at the age of five. But she could not speak properly. Other children used to make fun of her stammering and mimicked her.
Bholi's family was very prosperous. Bholi was the weakest child amongst all other healthy children. Her brothers were studying in the city. The sisters—Radha, the oldest had already been married; Mangla, the second sister's marriage had also been settled. The three sisters were good looking and healthy. Bholi .was neither good looking nor intelligent. A primary school was opened in the village for girls. As the revenue officer in the village, Ramlal wanted his daughter to study. Despite some opposition from his wife, he sent his daughter Bholi to school.
Bholi was bathed, oiled and dressed in new clothes and sent to school. She realised that she was being taken to a place better than her home.
In school, Bholi sat down in the corner in a classroom. She was happy to see girls of her own age. She hoped that one of these girls might become her friend. Bholi did not know what a school was like. She looked around and liked it. The class teacher came to her and asked her name. Bholi was too scared to answer, but the teacher's smiling face encouraged her to speak out her name.
Bholi was asked to come to school every day by the teacher. The teacher gave her one book with colourful pictures. She told her that she could complete that book in one month and then she would be given another book. She told Bholi that no one would laugh at her and everyone would listen to her with respect. Bholi's heart throbbed with a new life and a new hope.
During the course of the time, the village progressed. The primary school became a high school. There were now a cinema under a tin shed and a cotton ginning mill. The mail train began to stop at their railway station.
Ramlal found a match for Bholi without her consent. His name was Bishamber. He had a big shop, a house of his own and a good bank balance. He was under fifty years of age and had a limp. He was a widower with grown-up children. He did not know that Bholi had pockmarks and lack of sense. The parents considered Bholi to be a dumb cow. But Bholi showed her courage by refusing to marry the man.
Bholi Summary Questions and Answers
Question 1.
God created this world but teachers create human beings. How did Bholi's teacher succeed in changing the course of her life?
Answer:
The teacher gives desired encouragement, inspires her with love. She changes her into a bold and confident girl. She protests at her marriage and refuses to get married with an aged, greedy, coward and mindless person. It transforms her life.
Question 2.
Why did Bholi at first agree to an unequal match?
Answer:
Bholi agreed for the sake of her parents. Their honour was at stake.
Question 3.
Why did Bholi later reject the marriage? What does this tell us about her?
Answer:
She rejected the groom because the bridegroom proved greedy, mean and hateful coward. He had demanded dowry because she had pock-marks on her face. She remained no longer a dumb cow, but became an independent girl of great confidence due to the efforts of her teachers.
Question 4.
Why did Bholi's parents think her 'a dumb cow'?
Answer:
Bholi's real name was Sulekha. She was a simple girl. Everyone called her Bholi, the simpleton. She was a slow learner. She was not a good looking girl. She stammered also.
Question 5.
How did Bholi turn out to be an outspoken and a fearless girl?
Answer:
Bholi was sent to the village school which transformed her into a bold girl. Her teacher's encouragement and affection gave her a new hope and new life. She became a sharp outspoken and fearless girl.
Question 6.
What was Bholi's experience at school on the first day? Did she enjoy it? Give a suitable answer.
Answer:
On her first day in the school, Bholi felt alone and fearful in the new surroundings. She was happy to see many girls of her age. The coloured pictures made her happy on this very day. The soft and soothing voice of her teacher calling her 'Bholi' touched her heart.
Question 7.
What kind of treatment is given to Bholi by her parents? Is it justified?
Answer:
Bholi was the fourth child in her family. She was different from her other siblings. She had a disfigured face. She had black pock-marks. She was a slow learner. She used to stammer also. She was not given proper treatment at home. The treatment given to Bholi cannot be justified. There should not be any discrimination against handicapped in the family.
Question 8.
Why did Bishamber refuse to marry Bholi?
Answer:
Bholi was a simpleton. She was not a good looking girl. She had pock-marks on her body and face. When Bishamber was about to garland Bholi, the silken veil from her face was slipped back. When Bishamber saw the pock-marks on her face, he refused to marry her.
Question 9.
When did Bholi realize that she was going to a better place than her home?
Answer:
Bholi was given a new dress to wear. Earlier she used to wear the used clothes of her sisters. She was given a bath. Her hair were oiled. These unusual things made her feel that she was going to a better place than her home.
Question 10.
How did Bholi react when her father caught her by the hand to take her to school? Why?
Answer:
Bholi was a simpleton. When her father held her hand and told her that they were going to school, she got frightened. She recalled how a cow was taken out of house for sale. She thought that she was being dragged out of the house.